Damian Lillard unanimously wins Rookie of the Year
Surprise, Portland's Damian Lillard is your 2012-13 Rookie of the Year.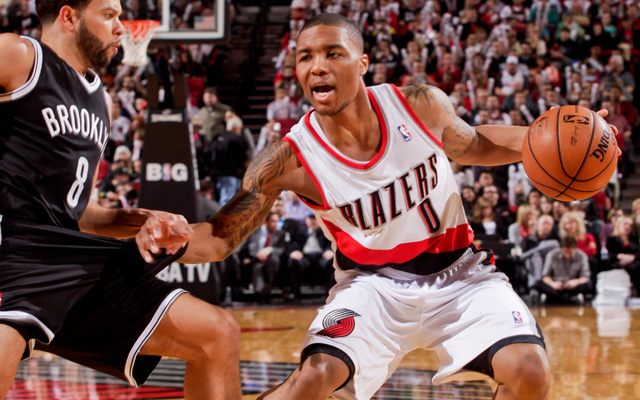 Not surprising: Damian Lillard is your 2012-13 Rookie of the Year. 
Kind of surprising: Lillard was unanimously selected as the 2012-13 Rookie of the Year. 
The league announced Lillard as the winner on Wednesday after his impressive rookie season with the Portland Trail Blazers . 
Lillard, the No. 6 overall pick in last year's draft, averaged 19.0 points, 6.5 assists and 3.1 rebounds. He also was instrumental in keeping the Blazers competitive for a playoff spot for most of the season. 
Behind Lillard, in order, was No. 1 overall pick Anthony Davis , Andre Drummond , Dion Waiters , Harrison Barnes , Chris Copeland , Michael Kidd-Gilchrist , Jonas Valanciunas and John Jenkins . 
Lillard is the fourth player in the history of the award to win it in unanimous fashion, joining Houston Rockets center Ralph Sampson (1983-84), San Antonio Spurs center David Robinson (1989-90) and Los Angeles Clippers forward Blake Griffin (2010-11). 
The 6-foot-3 guard joined Oscar Robertson and Allen Iverson as the only three rookies in NBA history to record at least 1,500 points and 500 assists. He also broke Stephen Curry 's rookie record for made 3-pointers in a season, with 185. 
Lillard was essentially the unanimous choice by most NBA writers too, including CBSSports.com, though Davis had a case. 
There's a good argument to be made for Anthony Davis. From a metrics standpoint, you walk away feeling that Davis is the better player. And you certainly feel that he has more upside and a brighter future, based on what he and Lillard do.

But while Lillard's accomplishment is based mostly on minutes and usage, it also has to do with role. The Blazers pretty much set out from Day 1 to depend on Lillard, and he was good enough to get them within distance of the playoffs. He was more of a focal point and most obviously involved than Davis was. He deserves this and has for some time.
Lillard, 22, is the third Rookie of the Year for the Blazers and first since Brandon Roy in 2006-07. 
Show Comments
Hide Comments
The excitement was just too much to handle, apparently

Westbrook noticed something the players all had in common

The reserve guard has missed the last 11 games for the Clippers
Sounds like the Knicks need to figure out what's going on with their star forward

The future Hall of Famer opened up about his post-NBA life

Boston's star guard addressed the media for the first time since his sister's death