Danilo Gallinari suffers fractured thumb
Danilo Gallinari suffers fractured thumb against the Dallas Mavericks Monday night.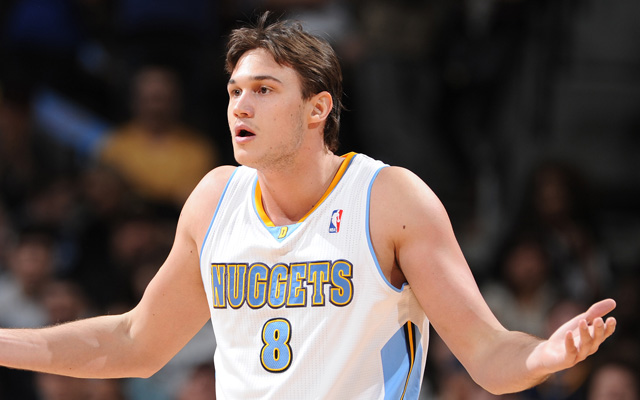 Danilo Gallinari suffered a fractured thumb Monday against the Mavericks.
(Getty Images)
The
<em>Denver Post</em>
reports on the injury sustained by Danilo Gallinari Monday against the Dallas Mavericks: 
Uh oh. Gallinari has a left thumb fracture, won't return

— Benjamin Hochman (@nuggetsnews) March 20, 2012
The Nuggets had just gotten Gallo back from injury after the All-Star break and he was starting to get his legs under him. It's not known at this point if Gallo will miss any time or just wear a brace, but a fracture is a fracture and that's never good. 
Andre Miller also suffered a shoulder contusion which will likely have an MRI Tuesday. The Nuggets were flush with all this depth after signing Wilson Chandler and all of a sudden have holes at reserve point guard and at small forward.  
We'll keep you updated on Gallinari and Milller's status.
Show Comments
Hide Comments
Former Lakers star is now an executive for Golden State

How do the Cavaliers flip the script for a second straight year?

Boston lacks the size, rebounding and rim protection necessary to take on bigger lineups
What happens when the Death Lineup comes in? Can Kyle Korver keep it up?

Fox is widely considered a top 10 prospect in the NBA Draft

This looks strikingly familiar, huh?