Danny Granger uncertain whether Pacers will trade him
Indiana Pacers forward Danny Granger said he isn't sure whether or not he will be trade by Thursday's NBA trade deadline.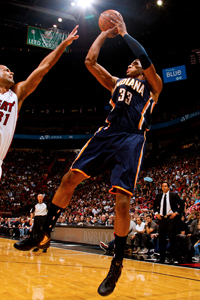 Danny Granger continues to find his name in trade rumors. (Getty)
This wouldn't be the worst time and place for a team to step in and say: "Hey, man, we're not moving you, relax."
FoxSportsFlorida.com reports
that Indiana Pacers All-Star forward Danny Granger -- who has found his name in trade rumors for years -- doesn't think he will move before Thursday's
NBA
Trade Deadline, but he's not totally sure either. 
"You don't know with the NBA. Trades can always happen. Sometimes they're expected, sometimes they're not expected. So you just got to play on."

Granger isn't anticipating being dealt. He figures if that were the case, Indiana president Larry Bird would have said something to him.

"Probably not going to happen," Granger said. "But who knows? You never know what can happen."
All indications would seem to make Indiana a buyer rather than a seller prior to Thursday, and any trade involving Granger, their leading scorer, would almost certainly have to be a sale. Granger is a tier star with 2+ years left on his deal; he's not capable of bringing back a star talent by himself. And while Indiana is loaded with young pieces to package with him, those pieces are good and cheap and the Pacers surely recognize they are better off keeping those pieces together.
Meanwhile, Indiana is currently sitting in the No. 5 seed in the Eastern Conference with a record of 23-16. Their .590 winning percentage is better than any winning percentage the franchise has had since a 61-win season in 2003-2004 that ended with a trip to the Eastern Conference Finals. They've made the playoffs one time in the previous five seasons. Why now, of all times, to shake up a good thing?
Of course Indiana also has eight digits worth of cap space to add a piece for a playoff run, ideally one on an expiring contract, and still maintain flexibility heading into 2012 summer free agency.
Put it all together and there's virtually no reasonable scenario that sees Granger on the move by Thursday. His express uncertainty is par for the course in the NBA but this is one time and place where a little reassurance from management might not be the worst idea.
Show Comments
Hide Comments
Nurkic, who had been out since March 30, played 17 minutes in his return in Game 3

Cleveland is off to the second round, but questions remain about the defending champs

Cleveland's margin of victory was just 16 points despite a dominant series from LeBron
A look at just how good LeBron has been in the first round of the NBA playoffs

The Wizards hold a 2-1 series lead

Toronto can take a 3-2 series lead on Monday night at home