Danny Granger 'unlikely' to play on opening night vs. Magic
Pacers forward to miss season opener vs. Orlando with calf injury sustained in preseason play.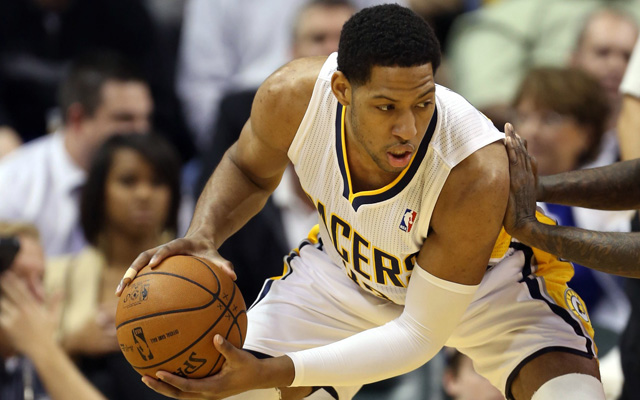 Pacers forward Danny Granger is "unlikely" to play in the Pacers' opener vs. Orlando on Tuesday in Indiana. Granger missed all but five games last year with a knee injury, but returned to practice and preseason play on time according to his rehab timeline. However, this time it's a calf that he injured last weekend in preseason play. From the Indianapolis Star: 
Granger was injured during an exhibition loss to Dallas on Oct. 16. Team officials said at the time they did not believe the injury was serious and Granger likely could have played if it was a regular season game. But he has not practiced since and Vogel acknowledged after practice today the injury is more serious than originally thought.

"There's a chance he could play on opening night, but it's probably unlikely," Vogel said. "He was on track to maybe have a role with the starting unit. Now, he's struggling to find his timing. We're running the offense through Lance (Stephenson) when he comes off the bench. We'll see where he's at on a day-by-day basis."

Granger played in just five games last season because of a knee injury. The calf injury is unrelated to that, but Vogel said he is concerned that Granger is not building enough strength in the knee because he has been unable to practice for several days. The Pacers finish their pre-season schedule at Dallas on Friday.
via Danny Granger unlikely to play when Pacers open regular season Tuesday | Indianapolis Star | indystar.com.
It has to be frustrating for Granger, who at this point is just trying to stay on the floor for any length of time. The Pacers are in pretty good shape on the wing with Lance Stephenson and Paul George and can handle things at power forward with Luis Scola and David West. But Granger is expected to help out the Pacers' dismal offense from last season and at the very least give their bench some real firepower when they get to their deeper lineups. 
Orlando's not exactly a powerhouse (Indiana is a 10.5 favorite as of Thursday afternoon according to Sportsbook.com), but it's mostly just starting off the year without someone you want to be a big part of your team can throw things out of whack. We'll see how long it takes Granger to get back (yeah, that's right) on the court. 
Show Comments
Hide Comments
Somehow, the Celtics have become a significantly better defensive team with Thomas on the...

Will Iggy stay with Golden State? Does anyone have any idea what to do with Derrick Rose?

Hoiberg was asked about Isaiah Thomas possibly carrying the ball during Game 5
Celtics point guard does not need anyone to hype up his defense

The Bulls had it, they had it ... and ... it's gone

The Bulls found they were without hot water following their Game 5 loss