Danny Granger will miss first two games of the season for Pacers
Indiana Pacers small forward Danny Granger will miss the first two games of the regular season with a calf strain. He played five games in 2012-13.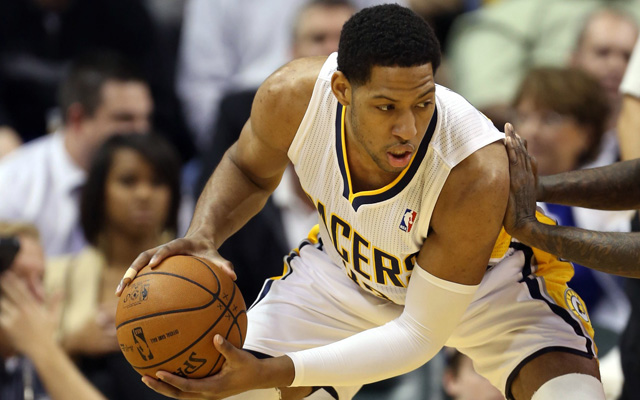 The Indiana Pacers took a while to adjust to life without Danny Granger during the 2012-13 season. They had an extremely slow start offensively to the season without their best scorer (going into last season, that is), but eventually found a way to find their rhythm. Granger only played five games last season but that didn't stop the Pacers from finding a star on the wing in Paul George and getting to Game 7 of the Eastern Conference finals.
They were looking to add Granger back into the offense and rotation for the 2013-14 season but that idea is apparently on hold. According to Scott Agness of Pacers.com, coach Frank Vogel informed everybody that Granger's calf strain will keep him out of the first two games of the regular season when the Pacers tip off Tuesday night. 
Vogel declares Danny Granger (calf strain) out for the first two games of the season.

— Scott Agness (@ScottAgness) October 27, 2013
The Pacers start the season off with a back-to-back set of games against the Orlando Magic at home on Tuesday and then they travel to face the New Orleans Pelicans on Wednesday. If Granger is able to come back for the third game of the season that means he'll be back Saturday for a game at home against the Cleveland Cavaliers.
If Granger is out longer than the first two games and struggles to get on the court much for the second straight season then at least the Pacers know how to adjust right away this season. Their upgraded scoring off the bench should help them avoid the offensive lulls that bogged them down to being last season when they had a top defense right away and a horrendous offensive output. 
Show Comments
Hide Comments
Series prices show Dubs light years ahead

Green responded that he's 'the modern day Draymond Green'

Our experts predict whether the Jazz can compete with Golden State, along with the rest of...
Breaking down key matchups as the second season reaches the conference semifinal series

Pierce's 19-season run in the NBA ended Sunday as the Clippers bowed out of the playoffs

Utah overcame its relative lack of experience with a balanced, deep and versatile roster