Danny Green talks Durant, LeBron, and Kobe on Reddit "AMA"
Danny Green says that LeBron James is a better "all-around" player than Kobe Bryant, Kevin Durant is hardest to guard.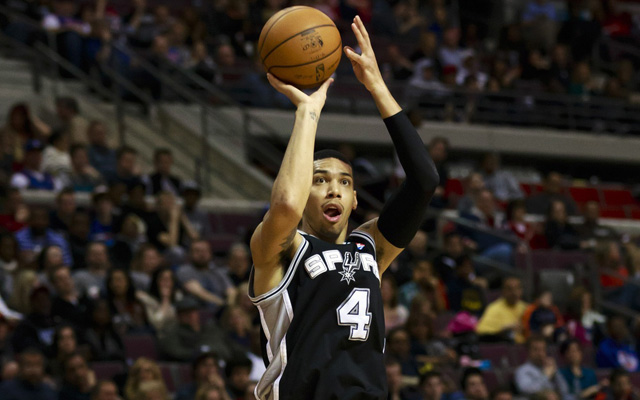 San Antonio Spurs guard Danny Green hosted an "Ask Me Anything" on social forum Reddit on Thursday, and talked about a number of topics. 
Green was asked who was better, LeBron James or Kobe Bryant and he answered diplomatically. Kind of. 
depends on what category...Kobe is a better scorer, LeBron is better all-around
via dannygreenUNC comments on I am Danny Green, San Antonio Spurs shooting guard.
That's pretty much accepted at this point, what with James having won four of the last five MVPs, the last two Finals MVPs and two titles, but there are still holdouts who maintain that Bryant is the best player in the league based on his scoring ability and reputation. After seeing James up close in a seven-game series, though, hard to imagine Green could come away with any other answer.
Green was also asked who the toughest player in the NBA to defend was, and he responded not with Kobe or LeBron, however. 
In my opinion, Kevin Durant...he's 6'11 and moves like a guard, you can't block his shot
via dannygreenUNC comments on I am Danny Green, San Antonio Spurs shooting guard.
This comes on the heels of Raymond Felton calling Carmelo Anthony "the best scorer in the league" earlier this week, so it's kind of an interesting debate. But just from a pure physical standpoint, Durant feels like he's 7 feet tall and can hit from halfcourt. Not exactly a controversial comment from Green. You can defend LeBron, but he's just able to do so much you can't really stop him even if you flummox his jumper or cut off his passing. But trying to stop a guy one-on-one? Durant barely notices defenders. 
Show Comments
Hide Comments
Somehow, the Celtics have become a significantly better defensive team with Thomas on the...

Will Iggy stay with Golden State? Does anyone have any idea what to do with Derrick Rose?

Hoiberg was asked about Isaiah Thomas possibly carrying the ball during Game 5
Celtics point guard does not need anyone to hype up his defense

The Bulls had it, they had it ... and ... it's gone

The Bulls found they were without hot water following their Game 5 loss