Daryl Morey complains on Twitter his guys didn't get the votes
Houston Rockets GM Daryl Morey took to Twitter after the All-Star Game starters were announced because James Harden and Dwight Howard didn't get the vote.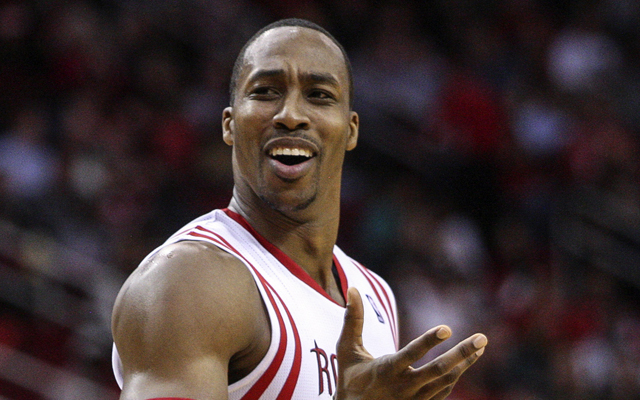 After Dwight Howard and James Harden missed the cut for All-Star Game starters in the Western Conference, Houston Rockets' GM Daryl Morey took to Twitter to complain about the voting process. The starters in the West are Kobe Bryant, Stephen Curry, Kevin Durant, Blake Griffin, and Kevin Love. Love edged out Howard as the third "forward" being voted in, which didn't sit too well for Morey.
Morey complained the All-Star Game being set up for offense only and said that centers were being gerrymandered out of the game. Was he just complaining because his guys didn't get voted in as starters or is this a legitimate gripe?
NBA all star voting process set up well for Iowa high school girls basketball. Offense only & only guards and forwards.

— Daryl Morey (@dmorey) January 24, 2014
It's a house election right now w/Centers gerrymandered out MT @5thQuarterMag It's 4 fans. Would U like presidential election 4 All-Star Gm?

— Daryl Morey (@dmorey) January 24, 2014
If Kobe out then @JHarden13 should start or, since positions don't matter, @KDTrey5 should be SG & @DwightHoward starts w/next highest votes

— Daryl Morey (@dmorey) January 24, 2014
It seems that if you're complaining about the voting process for determining All-Star starters, you're really complaining about your team's fans not voting enough. The starters are determined by a popularity contest and with the teams pleading for their fans to vote their own guys in, it really comes down to which fan bases are the most active on social media. Harden and Howard both did quite well in the voting process but not well enough to get in as starters.
They're still going to get into the game too. It would be shocking if both players missed the cut when coaches select the reserves next Thursday. Harden is averaging 24.3 points, 5.4 assists, and 4.9 rebounds while Howard is averaging 18.3 points, 12.6 rebounds, and 1.8 blocks. Both have helped the Rockets get to a 29-15 record.
I don't know that complaining about offense-specific players getting into the All-Star Game is the way to go when fighting for Harden's inclusion as a starter, either. But nobody is going to fault a team GM for sticking up for his guys in this process.
Show Comments
Hide Comments
Will Iggy stay with Golden State? Does anyone have any idea what to do with Derrick Rose?

Hoiberg was asked about Isaiah Thomas possibly carrying the ball during Game 5

Celtics point guard does not need anyone to hype up his defense
The Bulls had it, they had it ... and ... it's gone

The Bulls found they were without hot water following their Game 5 loss

Wall finished with 20 points and 14 assists in win over the Hawks