David Stern on his tenure and what events were hardest to manage
David Stern joined John Feinstein to talk the one-and-done rule in college and also had some comments about his tenure as commissioner.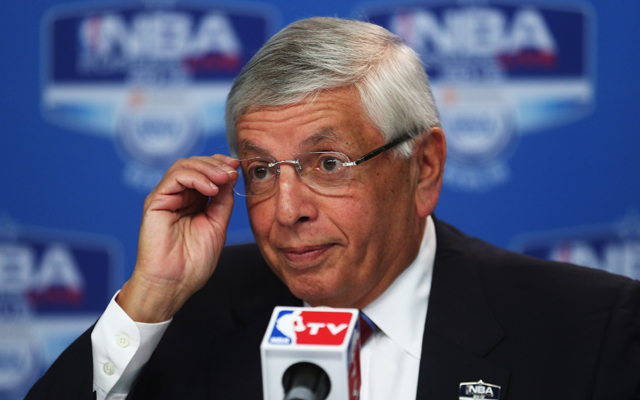 David Stern is on his farewell tour, and by all accounts, it will be his first and only. 
After 30 years, Stern will step down as commissioner in 2014 and leaves behind a legacy of incredible ups and downs, but overall, the NBA is an incredibly better position today than it was when he assumed control. 
"With respect to the 30 years, I think it's fair you look at the body of work, rather than one thing," Stern said Monday on The John Feinstein Show. "For reasons that are not personal to me, but are because of various developments in our industry, I can tell you when I joined the NBA in 1978 ... the revenues for those teams closing their books, was $78 million all in. And this year they'll be five and a half billion."
Stern also talked about changing perceptions in the league and how the NBA had to overcome stereotypes. 
"Our players in the early 80s were supposedly too black, earned too much money with their $250,000 salary and were clearly thought to be the only people in the world that ever used drugs," he said. "Of course that turned out not to be true."
But over his 30 years, Stern has overseen a whole lot of problems, and didn't mind noting them when asked if anything particularly stood out.
"It's the whole thing. Actually you've got all kinds of things that happened," he said. "Whether it's Tim Donaghy, whether it's Magic Johnson being HIV positive, or Ron Artest going into the stands, or Latrell Sprewell deciding it would be a good idea to strangle his coach or Gilbert Arenas bringing a gun into the locker room, I see that as, those crises have to be managed."
Which one was toughest?
"Each one kept my up in its own way," Stern said. "But the brawl that happened between the Pistons and the Pacers provided much of the media in the course of that weekend to use the words 'thugs' and 'punks' with respect to all of our players which to me is freighted with respect to what they're really saying and brought up visions of the way the media treated us a decade or more earlier."
As in being racist? 
"Mildly, yeah," Stern said.
Stern also noted Magic Johnson's positive test being something for the league to overcome, but said he feels like the NBA ended up doing a "public service" with how they educated about it and put a face to it. 
The interviewed wrapped up with a pretty lively discussion and description of college's one-and-done rule. Stern defended the rule, but said the league has pushed for two years instead of one.
"I'm not going to give him any advice on that one. That's too freighted as well," Stern said. "But I've been quoted as well as saying that an expansion team I'm sure would not get that name today. And so that's where I'll and let Dan Snyder and Roger Goodell work that out themselves." 
Show Comments
Hide Comments
Bill Laimbeer likes the flexibility of LeBron James over Michael Jordan

Isaiah Thomas would rather have Celtics improve the roster than get a contract extension

How about giving credit to the teams for working hard enough to make it this far
Brown served two stints as Cavs coach and led them to an NBA Finals

Boston's star point guard is coming off an All-NBA season and his trade value may never be...

The Cavs GM is hoping there are plenty of doubters