David Stern says there's no rush on the under-23 Olympic decision
David Stern says the NBA will take its time in determining whether to limit the U.S. Men's Olympic Basketball Team to 23-and-under players only.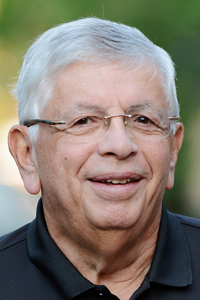 Commissioner Stern will take his time to make a decision.
(Getty Images)
David Stern told USA Today in an interview Thursday that while the issue of whether to make the U.S. Men's Olympic Basketball Team limited to players 23 years of age and under is a hot button issue, they're in no hurry to rush into a decision. From USA Today: 
NBA Commissioner David Stern, on the other hand, is in no hurry to reach a conclusion on whether this will be the last Olympics for NBA players of all ages or whether men's players 23-and-under will compete in future Olympics.

"Nothing is definitive," Stern told USA TODAY Sports by phone Thursday. "All we're talking about is the issue, having taken stock 20 years after Barcelona. What is the best way to continue the growth of the game on a global basis?"

"This is not an urgent issue," said Stern, the NBA's commissioner since 1984. "This is just an opportunity to have an intelligent conversation with our friends at FIBA (international basketball's governing body)."
via Stern in no hurry to know if NBA players stay in Olympics – USATODAY.com.
The decision is going to be a divisive one, with representatives of the 2012 team already having come out strongly against the decision. Jerry Colangelo expressed to USA Today that he needs to know early to start planning, which makes sense. He'd have to wholly reconfigure the process and the overall structure of the organization, and the kind of money USA Basketball generates would shift dramatically. 
But Stern knows that a decision either way is a huge one for the future of international basketball, and he's not going to get ahead of himself. 
This thing could take a while. 
Show Comments
Hide Comments
Houston advances, and San Antonio is set up to follow suit after its Game 5 win

This is fuel to the Westbrook haters' fire

How to watch the first-round series between L.A. and Utah
The playoffs are getting interesting

Harden didn't play great, no one could shoot, and the Rockets still rolled to a 4-1 series...

The Cavs and Warriors have both swept their first-round opponents