David West plays through illness with contagious heart
Battling a fever over 100 degrees, the Indiana Pacers' power forward David West helped inspire his team to a Game 6 victory.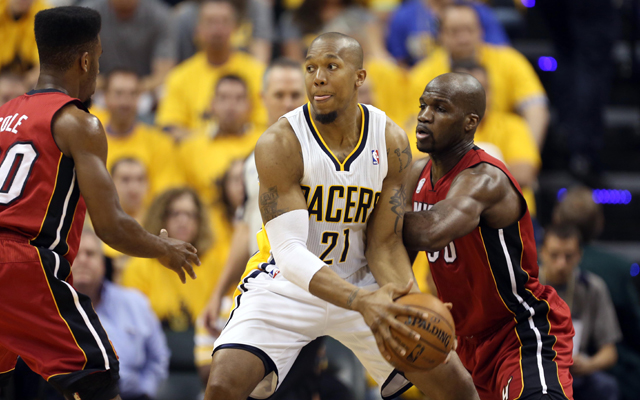 INDIANAPOLIS -- Cold sweats. High fever. Body aches.
Indiana Pacers' power forward David West is often regarded as one of the toughest guys in the league. He's built like a tank and moves opposing players around the painted area like he's setting up folding chairs. He's one of the few guys in the league that will never get labeled as a "fake tough guy." Nobody wants a piece of him if a scuffle is breaking out on the court because very few people are willing to play with their health like that.
David West was tough enough Saturday night to play through a fever over 100 degrees while battling an upper respiratory infection. It wasn't an easy thing for him to do, but it was something he felt he had to do with his team fighting against elimination from the Eastern Conference finals. And there was never any doubt that he'd give the Pacers everything he had. 
"I wasn't 100 percent," West said after his team's 91-77 Game 6 victory, "but I had to play. We've come too far for me to not play."
He played and he fought every step of the way. From scrapping for loose balls to dominating the glass with 14 rebounds, West found a way to do the little things when his health wasn't supposed to allow him to do much at all. And when his team needed him to step up to knock down big shots to put the Miami Heat away, he found the strength and focus to execute like he typically does.
West had a layup to extend the Pacers' fourth quarter lead to 12 points and answered back-to-back 3-pointers by Mike Miller that cut the lead to just six with a pick-and-pop jumper over Joel Anthony to push the lead back to eight points. Roughly two minutes later, he blocked a layup attempt by Anthony that would have cut the lead to five before following up his own miss inside with a dunk.
It was these types of gutsy plays while battling a fever that helped inspire his teammates.
"It's all heart," Pacers coach Frank Vogel explained after the game. "That guy is all heart. And it's contagious. I don't really have the words for it, to be honest for you. His tank was on E from the time he came into this building this morning. Tried to get the fluids and everything going, so he could feel better tonight."
But West couldn't feel better for the game and Vogel nearly took him out of the game in the second quarter, believing his power forward couldn't give anymore.
"I told him I got to get him out in the second quarter, near the end of the second quarter," Vogel said. "I said, 'I gotta get you out. You have nothing tonight.'
He said, 'No, leave me in. I'm alright. I'm good.'"
It was a wise decision to listen to one of the leading voices on this team. The veteran had 10 points on seven shots to go with six rebounds, one block, and one steal in the second half of this game.
"You can tell at times he wasn't fully there," Paul George said. "We very grateful to have a player like that. That's just David West stepping up to the challenge. And we still went to him, because we know David West, we'll take David West any day. Sick or healthy. He just gave us his all."
Those are the kinds of inspirational moments a team like the Indiana Pacers needed to extend this series and give themselves a chance to advance to the NBA Finals with one more win Monday night. For a team that has a motto of "Blue Collar, Gold Swagger" West showed the blue collar aspect all night long. He was willing to take on his illness and keep fighting for his team as they fought for their playoff lives. 
"I'm not feeling good now although this win helps," West said. "I'm sure I will be better tomorrow and I'll be ready for Monday."
Whether he's feeling well or not on Monday, I believe that he'll be ready to contribute.
Show Comments
Hide Comments
Houston advances, and San Antonio is set up to follow suit after its Game 5 win

This is fuel to the Westbrook haters' fire

How to watch the first-round series between L.A. and Utah
The playoffs are getting interesting

Harden didn't play great, no one could shoot, and the Rockets still rolled to a 4-1 series...

The Cavs and Warriors have both swept their first-round opponents