DeMarcus Cousins, Kings may finally be getting out of their own way
Emerging from years of turmoil, the Kings are now surrounded by at least a cautious optimism.
SACRAMENTO, Calif. -- As you approach Sleep Train Arena from the south, at dusk on a cloudy, dreary January day, you notice what looks like a living, breathing plume of black smoke wafting in the air above the building.
It pulsates and shape-shifts in the sky, billowing like a vapor trail that reminds you of the black smoke monster from "Lost."
Ominous? You bet. An omen? Not exactly. Upon closer inspection, this creepy phenomenon isn't some toxic cloud symbolic of the rift between George Karl and DeMarcus Cousins. It's just birds -- hundreds and hundreds and hundreds of birds -- fluttering in a rhythmic pattern, suspended in mid-air.
On this night, the shape was very much evolving -- much like the basketball team that plays here.
"It's a rollercoaster ride," Karl said. "Trying to figure out what it takes to be good is always a rollercoaster."
A harrowing one, at that. The Sacramento Kings are not the worst team in the NBA anymore, nor are they one of the best. Like 20 other teams, they're breathing the ether of uncertainty that comes with building, tearing down, and perpetually building again. The air is often deceptively sweet, carrying with it the seductive fumes of hope.
In most places, this is the busywork that distracts the paying customers from what's actually going on.
From what anyone can tell, the Kings are neither good nor bad, but they are most certainly fascinating -- a status that resides a few zip codes away from the intersection of Hopeless and Dysfunctional, where they lived for years. If things seem somewhat tranquil now in their new neighborhood, their history -- both long- and short-term -- would indicate that they should rent, not buy.
"Anyhow," Karl was saying at practice over the weekend, trying to sum up where things stand in the soap opera that he and Cousins have starred in since last season. The old coach swirled some melting ice cubes around the bottom of a wax-paper cup that a few minutes ago served as the vessel for his sweet elixir, diet soda.
"With Cuz and I," he said, "people that write about the love affairs in the league, it's never that much. And the people that write about all the crisis in the league, it's probably never as bad as they write."
Except here. Here, it was bad.
It began last season with Karl stepping out of bounds and proclaiming, shortly after becoming the Kings' third coach of the season, that no player on the team was untouchable in trades. Cousins seethed. A cold war between coach and superstar ensued, and very few of those end as anything other than mutually assured destruction.
Their relationship remained chilly through the summer -– images of that infamous, dead-fish handshake at Summer League making the rounds online.
"I just can't stand summer talk," Karl said, sitting against a wall in the corner of the Kings' practice facility. "I mean, free agency, all the money, teams think they saved their organization by signing this guy or making this trade. You have all these obnoxious predictions and it doesn't mean anything. We got off into that trade innuendo, and I think it hurt Cuz. And I think I made a mistake in making the comment that no player is untradeable. That's something I might believe, but I shouldn't have said it. So everything kind of snowballed in the wrong way at the end of last year."
In truth, the Kings' dysfunction became a tried and true tradition long before that. There are better franchises in the NBA, and there are worse, but there is no sillier one. With no fewer than eight different head coaches since the Rick Adelman era ended in 2006, and multiple front-office configurations, the only guarantees in Sacramento for years were change and turmoil.
If not for the new arena rising impressively downtown -- appropriately, given the past decade of losing, on L Street -- the very future of the NBA in Sacramento would have been tenuous, at best. Seattle, Vegas and Anaheim came calling, only to be beaten back by Mayor Kevin Johnson and a fan base that's as loyal and patient as any other in the sporting kingdom.
"I really feel Sacramento is one of my homes," said Kings GM Vlade Divac, a son of Serbia and popular member of those thrilling and successful Kings teams of the early 2000s. "Obviously people love basketball here and I really feel comfortable being around this city."
Divac befriended quixotic owner Vivek Ranadive two years ago and became a trusted advisor -- so much so that Ranadive turned this wayward ship over to him while undercutting then-GM Pete D'Alessandro in the process. D'Alessandro returned to a front office job in Denver, which then hired Michael Malone as head coach -- the same Michael Malone who D'Alessandro had fired in Sacramento a few months earlier.
As the kids say, you can't make this stuff up.
Hailing from a war-torn land and known as a mender of locker-room fences as a player, Divac was hired more as a peacemaker than an executive. He hadn't been around the NBA for a decade, but came to a complicated job with something of a flair for crisis management, which is what the Kings needed more than anything.
"I'm not probably a typical GM or executive," Divac admitted. "I'm spending time with the guys; I have fun with them. I listen to what they say, I listen to what the coaches say and try to be a team. I'm creating an environment where we're all on the same page and working together."
Through Summer League, the Kings' new brain trust went about the daunting task of trying to spin their way to better days. Cousins posed for pictures with new teammates Rajon Rondo, Marco Belinelli and Omri Casspi and another popular ex-King now in the front office, Peja Stojakovic. Ranadive was in the frame, awkwardly flashing the "hang loose" sign, as if that's something tech billionaires do. Divac sat in the front row with Cousins and talked. Karl and Cousins encountered each other only briefly, exchanging that limp handshake that became Vine gold.
Soon, a meeting was brokered; Divac, the peacemaker, had arranged for Karl and Cousins to air their grievances. Evidently, it wasn't a full airing, because Cousins unleashed a profane rampage on Karl in the locker room after a home loss to San Antonio that dropped the Kings to 1-7 and made a world where Karl and Cousins could co-exist seem like fantasyland.
"My belief was, I never, ever thought I was not going to coach Cuz this year," Karl said. "Did you have philosophical discussions? We talk about everything. We meet for 2-3 hours every day and talk about every scenario in the world. And I think Cuz worked his tail off this summer. Vlade and I got together with Cuz in the summertime, and I think what happened in the locker room after the San Antonio game was him maybe venting all that anger that he had through the process. Vlade's done a good job of being a good bridge between he and I."
So if his relationship with Cousins was a 10 on the crisis meter in November, I asked Karl, where is it now?
"Three-and-a-half?" Karl said. "Two? I don't know. It's under control. It's in a good place."
Where the Kings are now was exemplified in their two most recent home games -- a 118-115 victory over the 8-31 Lakers in which they blew a 27-point second-half lead, and a 128-116 loss to the 36-2 Warriors in which the Kings led by seven in the first quarter and trailed by as little as five in the fourth.
The letdown against L.A. prompted Cousins to go off again in the locker room –- but this time, Karl was not his target. It was his teammates.
"He was pissed," Casspi said. "We talk a lot about playoffs and we talk about making this big step, and we have a team on the ropes, up 27 points, and we're not knocking them out? That's not a good sign."
It's usually the sign of a team with internal strife, an environment where effort is conditional. But in this case, call it progress that Cousins recognized it and made sure it wouldn't be tolerated.
"I honestly think it's probably the best thing that happened," Karl said, "other than getting the win."
Casspi, back for a second tour of duty with the Kings, has seen the bad, the bizarre and the hopeless that became hallmarks of this basketball place. It's different now, he insists.
"I feel like the new group of guys who are running the show now, from Vlade and Peja and the guys out front to our coaching staff and everything in place, it's kind of taken the ship out of the mud, out of the icebergs that we've been in," Casspi said. "To turn an organization around that's been in the mud for eight or nine years, it's not just an overnight thing."
It would take a year to unravel all the transactional missteps that led the Kings to this point, but what they have now is enough talent to win.
The one-year gamble on Rondo has yielded both upside and controversy; the enigmatic point guard leads the league in assists, though he embarrassed the organization with a homophobic slur against Bill Kennedy, resulting in the longtime referee coming out as gay.
Casspi, re-signed after the prior regime puzzlingly traded him, along with a first-round pick, for J.J. Hickson in 2011, is fourth in the league in 3-point percentage (.477) and second among small forwards in field-goal percentage (.515). Though he's shooting a career-low 33 percent from 3-point range, Belinelli brings championship experience and craftiness. Caron Butler has appeared in only nine games, but his leadership is one of the reasons the Karl-Cousins partnership hasn't gone up in smoke yet.
And Cousins … wow. Despite the blowup in San Antonio and his ejection against the Warriors last week for stalking an official while arguing a call, there's no denying that on the floor, he's been brilliant.
"He's the No. 1 big guy in the league," Divac said, putting to rest any notion that Cousins will be traded. "The second one is not even close."
Nor is it close for second place to Cousins in emotional firestorms. He's working on it, Divac said.
"Sometimes he goes off," Divac said. "In Golden State, there was so much emotion that he just snapped. But a minute after, he knew what he did. That's good. When you know what you did wrong, it's a great step. When you do it and you don't know what you did, you're in trouble."
As the defending champion Warriors packed up their things in the makeshift visiting locker room at the doomed Sleep Train Center on Saturday night, the thought occurred to one team official that this could be the last time they'd do so in this building. Thinking better of it, though, he decided it was too soon to say good-bye to this old place for good.
Of the five teams separated by five games in the quest for the eighth playoff spot in the West -- and thus, the dubious honor of facing the Warriors in the first round -- the Kings (15-22) are the one that Golden State should fear the most. There's danger in these here California hills, a sleeping giant that could self-combust or cause problems.
"I see a team that's not fighting for the playoffs; I see a playoff team," Divac said.
With a furry Chewbacca backpack over his arm and a to-go box in hand from the postgame buffet, MVP Stephen Curry strolled across the floor to meet with family, including his brother, Seth, who is part of this odd mix of Kings talent and personalities -- a mix that, who knows, the Warriors could see again in April.
"We'll see what happens down the road," Curry said. "They're obviously a tough team with a lot of fire power."
And a lot of issues, too, but they're working through them. For once, the dark cloud over the franchise may not be a cloud, after all. Just some crazy birds taking flight.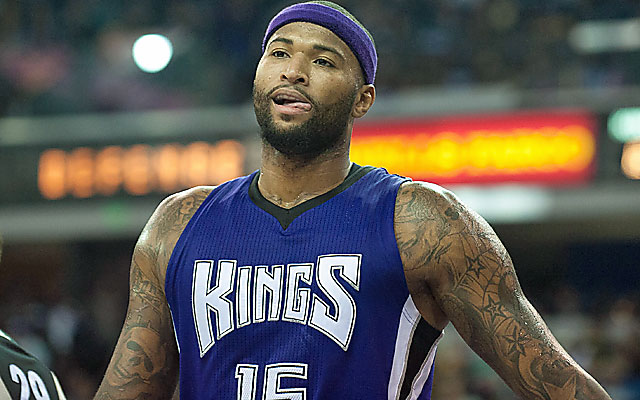 Show Comments
Hide Comments
Will Iggy stay in Golden State? Does anyone have any idea what to do with Derrick Rose?

Hoiberg was asked about Isaiah Thomas possibly carrying the ball during Game 5

Celtics point guard does not need anyone to hype up his defense
The Bulls had it, they had it ... and ... it's gone

The Bulls found they were without hot water following their Game 5 loss

Wall finished with 20 points and 14 assists in win over the Hawks