Deron Williams says he doesn't feel like a New Yorker
Nets guard talks about the culture shock of New York City and how it's hard raising his kids there.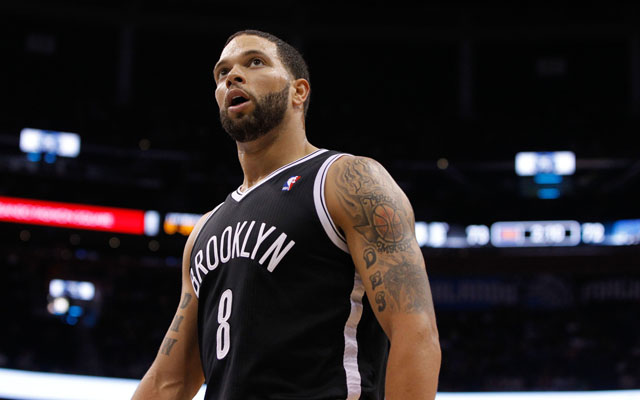 Deron Williams never volunteered to go to New York, originally. He was traded to the Nets in 2011 after a falling out with coach Jerry Sloan that saw the legend walk away from the game. A few weeks later, the Jazz unexpectedly pulled off a deal to send him to New Jersey, who was moving to Brooklyn. Williams re-signed with the Nets, based off the substantial money differential, the move to the city, and a greater chance of playing on a superstar team. 
Williams had been talking about moving to a bigger market to team up with a star during the summer. And he got his wish. But it hasn't really worked out the way he thought it might. He's been saddled with injuries, hasn't had the kind of seasons he was used to in Utah when he was a top-five point guard, and has largely disappointed. 
And now, courtesy of The Brooklyn Game's excerpt of an interview with something called "Resident" magazine, which is described as the "monthly magazine for the affluent and culturally savvy Manhattanite," it turns out Williams isn't a big fan of the city. 
On being a New Yorker

I'm not going to lie. I don't really feel so much like a New Yorker. I grew up in an apartment in Texas where you could send your kids outside like 'yeah, go play in the sun.' Here it's more challenging. The process of getting them into school is a nightmare. Even private schools where you pay are an ordeal. In Utah, you just send your kids to the first public school in the area because they're all great. Truth is, we enjoy getting away from the hustle and bustle and going back to Utah every summer. It's a relief to take that timeout. No traffic. No crowds. My daughters still have their friends there. There's a big backyard. They go to the pool; the playground and they jump on the trampoline. Kids running wild and free here in New York…? I don't think so.

On what makes a New Yorker

Taking the subway… which, by the way, I love to take. Yes, of course I have a chauffeured car but the subway is way faster. Second thing is the New York/Brooklyn accent — which I don't have. Third thing is New Yorkers are tough. Or at least they think they are.
via Deron Williams talks adjusting to New York, his foundation in Resident Magazine cover story » The Brooklyn Game.
Williams grew up in Texas (and had a chance to go back to Dallas when he was a free agent) and spent a huge amount of his career in Utah. He was part of a winning team there, one that made the Western Conference Finals at one point. Yeah, they hit a rough patch like most teams did. But you get the sense from these comments that maybe Williams ought to have been careful what he wished for. 
That said, you can expect him to veer away from this course and talk up how much he loves Brooklyn and the city at his charity dodgeball event this month, and later at the Nets' media day. 
But New York's not for everyone. And it doesn't seem like it's for Williams, either. 
The Raptors' big man rolled into camp in a beat-up, 25-year-old Audi that he could barely fit...

Lillard said 'good luck' to the champion Warriors if the Blazers acquire Carmelo Anthony

Now NBA stars are invading your neighborhoods and looking for your hoops
Raptors want improved ball movement and spacing, and the big scorer ran the show some last...

The 15-year veteran says his decision to return was influenced by his coach's plea

Shaquille O'Neal certainly knows how to bring attention to himself