Derrick Rose, at long last, says he is 100 percent
Derrick Rose has suffered no setbacks and remains at 100 percent just two weeks before training camp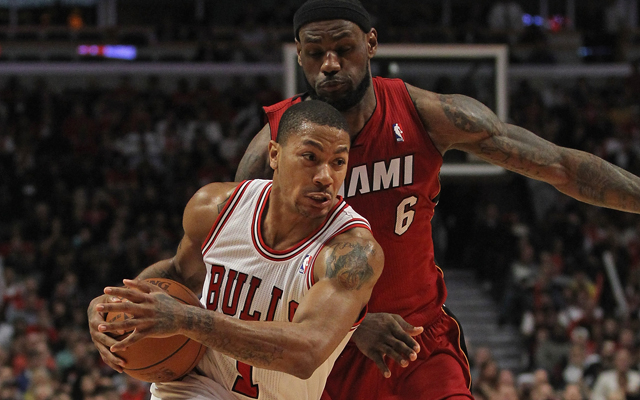 It has been 17 months since Derrick Rose stepped onto an NBA court during a regulation game. It has been seven months since he was cleared by doctors to return. There have been slow updates of progress, days and days of "day-to-day" consideration, and snippets of video showing him dunking. But no games. 
Rose insisted he wasn't going to return until he was "110 percent." That may be unrealistic since, you know, it's impossible, but at least he's at 100 percent. From CSN Chicago: 
"I think I am a 100 percent," Rose said. "I'm doing almost everything. I'm squatting, running, lifting almost every other day, just being back on the court after you have an ACL injury, you're kind of hesitant at first about how you step, what way you should step, learning how to run, accelerate, accelerate while you run and while you're slowing down. For me, I'm reacting right now where all I have to think about is if I have to get to a spot, I'm going to get there no matter what. It kind of feels good having that feeling again."
via Rose: I think I am a 100 percent | CSN Chicago.
Rose said he was 100 percent in July, so the big news here is really in context. It's one thing to say it in July as teams continue to try and sell tickets. But training camp is two weeks away. This is "for real," so to speak.
There will be skepticism about Rose actually returning to the floor until we see him lace them up, after the constant delays last year. But all we have are signs to interpret and right now, all the signs point to Rose being ready for Oct. 29 in Miami. We'll see how preseason goes, his first real test. The Bulls' first preseason game is on Oct. 5 against the Pacers.  
Show Comments
Hide Comments
Thunder fans used the term 'cupcake' in reference to Durant after he left OKC in free agen...

There appeared to be some wishful thinking on the part of Charlotte general manager Rich C...

Thompson is one of the best shooters in the league, but it appears dunking isn't his speci...
Cuban was willing to part ways with employees who leaked ahead of the official announcemen...

Draymond wasn't mad about the move, though. He was mad about the way he heard about it

All-Star forward was sent from the Bulls to the Timberwolves on draft night