Derrick Rose didn't feel any rust, says the knee is not a worry
Chicago Bulls star Derrick Rose struggled in his first game back with 12 points on 15 shots but says it wasn't because of rust or his knee.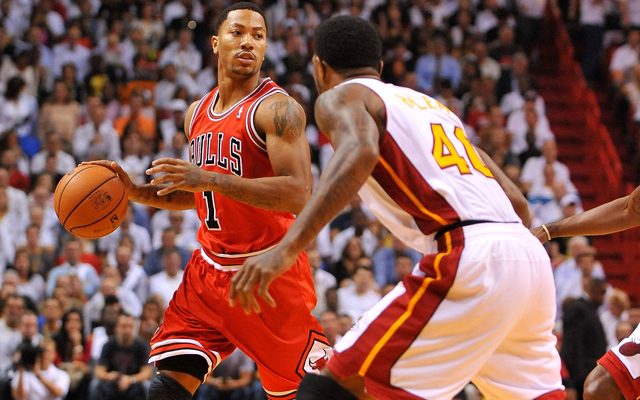 Derrick Rose's debut looked great in the first couple minutes of the game before he and the Chicago Bulls fell back down to earth against the Miami Heat. After scoring a couple of baskets in the opening moments of Rose's first game back since the 2012 playoffs, Rose finished the game with 12 points and five turnovers with just four assists. He made 4-of-15 from the field including a 1-of-7 from behind the arc.
The Heat cruised past the first quarter, save for a late flurry in the second half in which the Bulls threatened to make it a game. Rose's struggles weren't because of rust or his knee not being 100 percent after taking 18 months to come back from a torn ACL. He told reporters that the knee was good and nothing to worry about, while his missed shots were due to... missing shots.
Rose: "My knee is good. You don't have to worry about that."

— Ethan J. Skolnick (@EthanJSkolnick) October 30, 2013
Rose: "I don't think there was any rust. It was just me missing shots."

— Ethan J. Skolnick (@EthanJSkolnick) October 30, 2013
Rose was supposedly an improved 3-point shooter after making over 40 percent of those attempts during the preseason. However, his 1-of-7 performance delayed showing us this improved range in a regular season environment. Whether he is actually improved or not, we didn't see it right away, which is understandable when you consider the defense the Heat threw at him. 
Considering his other eight attempts were in the restricted area, it doesn't seem like the leg was the problem at all. He got to the basket consistently and he took pretty decent shots all game long. It's difficult to say it was due to rust but perhaps the speed of playing against the Heat took some adjustment, especially when they adjusted to his early game exploits.
Show Comments
Hide Comments
The Celtics star coach looks ready to take the throne as one of the great coaches in the l...

Utah couldn't clinch at home, and the Clippers live another day

The Celtics coach appeared to be upset when the chants broke out
Cleveland will host Toronto on Monday

Boston will host Washington on Sunday

Nothing can happen until Cleveland's season is over, however