Derrick Rose leaves game with right knee injury, needs MRI
Derrick Rose will not return to game against the Blazers after suffering a right knee injury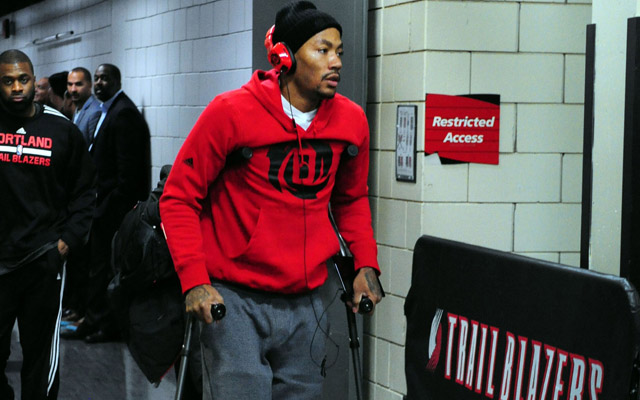 Bulls point guard Derrick Rose suffered a right knee injury Friday night in Portland and did not return to the game. Rose injured the opposite leg from the one he torn the ACL on cutting to the basket. There was no contact on the knee, it simply buckled underneath him. He was able to walk to the other end of the court before being tended to on the sideline and eventually being carried to the locker room. 
The Bulls announced after the game that Rose will have an MRI Saturday.
Rose missed the entire 2012-2013 season after tearing his ACL in his left knee during a playoff game vs. Philadlphia in April of 2012. Rose is averaging 15 points on 36 percent shooting and four assists this season, showing a lot of rust from the injury.
And a GIF courtesy of Gifulmination. 
Show Comments
Hide Comments
Our Latest Stories
In another shootout, the Washington got the best of LeBron James and co.

It doesn't, however, sound like he's looking for an official role

This isn't what you'd call peaking at the right time as Utah have lost four of its last fi...
Golden State is hoping to get Durant back before the end of the regular season

Shaquille O'Neal wishes his resume was a little bit stronger

The Philadelphia big man said it went 'better than expected'