Derrick Rose out Game 1, but says status is 'still up in the air'
Derrick Rose is still leaving the door open for a return.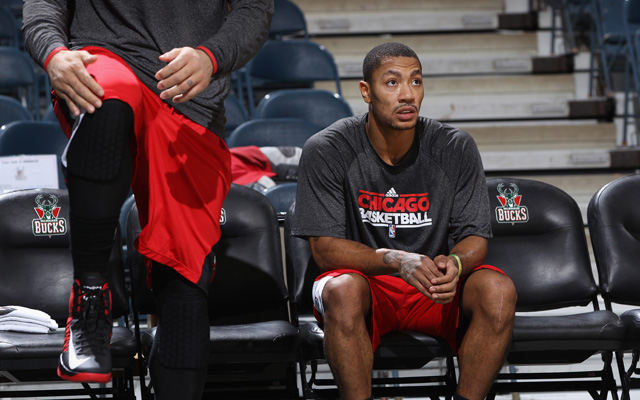 Though he hasn't played a game since ACL surgery almost a year ago, Derrick Rose continues to float the idea that he could come back at any moment. 
Via ESPN Chicago, Rose told reporters on Monday his status to return this postseason is "still up in the air."
Bulls coach Tom Thibodeau though did rule Rose out for Game 1. 
Rose's brother and manager recently said the former MVP is at "90 percent" and could return for the Heat series. Rose has been practicing full contact 5-on-5 for more than a month now and has been cleared since late February. 
Despite Rose leaving the door open for a return, Yahoo Sports reported Sunday that Rose is definitely not coming back for the postseason. 
Who knows? Derrick Rose knows. His choice has been made to sit out the season and it includes no provisions for turning back, sources with direct knowledge told Yahoo! Sports.
The question is then, why give the illusion you might return? Is it a diversion tactic to keep opposing teams on their toes? Or is it something else? 
Rose said in late March that "nobody knows but God" when he'll come back. He's listed the mental challenge of returning to the floor as the biggest hurdle. It's easy to see how Rose might just want to take this season completely off, get a full training camp in October and return at a normal pace. 
And you can see why returning now might not be wise. The intensity of the playoffs is already intimidating, so stepping in to that when you're not entirely confident on your knee, to be defended by LeBron James, that's not an ideal return scenario. 
But Rose is leaving the option open for some reason. It seems that he's not coming back this season under any circumstance. Why not just rule yourself completely out and quit doing this will-he-won't-he dance? Nobody knows but God, I guess. 
Show Comments
Hide Comments
Our Latest Stories
Boston's All-Star guard: 'It's weird what they were doing'

The second-year Suns guard got a lot of love on social media

Second-year guard's franchise record includes 51 in the second half, 28 in the fourth quar...
Former Laker greats, including Kobe Bryant, speak at ceremony

Who faces who, who's in, who's out, and what happens next?

Spurs assistant is well-positioned to be the first female NBA head coach