Derrick Rose playing 5-on-5 again
Chicago star looks "like the old Derrick Rose" according to a source to CBSSports.com's Ken Berger.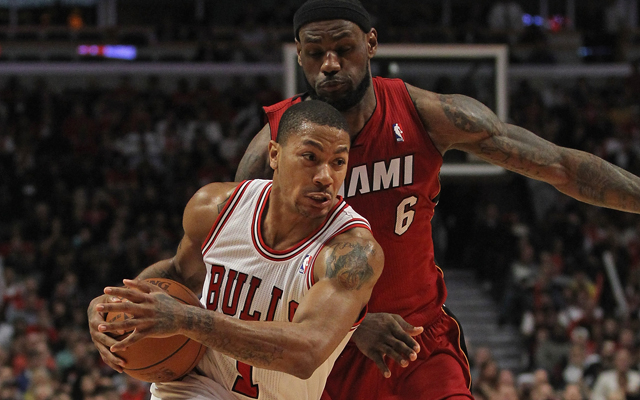 Ken Berger of CBSSports.com reports that Bulls point guard Derrick Rose, who missed nearly the entirty of the season for the second straight year, has no practice restrictions and looks "like the old Derrick Rose." 
The Bulls are emboldened by their options and flexibility heading into the draft and free agency, and the No. 1 reason just happens to be their most important piece of the puzzle: Derrick Rose. Rose is playing 5-on-5 on a daily basis, and, according to one witness, "looks like the old Derrick Rose." So much of the Bulls' future is tied to the former MVP regaining his form and health, but the team's focus now is getting him some help.
via Draft Buzz: Bulls seeking help for Derrick Rose - CBSSports.com.
That's pretty good news for the Bulls, and could assuage some fears based around Rose's intention to play for Team USA this summer. But more importantly, it helps with their free agency plan. 
The Bulls are all-in on Rose anyway, as the star of their present and future. But if there were still issues with his rehab, as there were after his ACL surgery recovery which dragged on for months past his projected return date, they might have had to hedge with their plans. Rose being able to show his full game and looking like "himself' in 5-on-5 play means Chicago can feel good about where their future is headed. For more on that plan, including Carmelo Anthony and Arron Afflalo, read Berger's latest draft update. 
Shaquille O'Neal certainly knows how to bring attention to himself

Warriors, who are not leaning on taxpayers for the arena, plan to pay back the fee after 30...

In a documentary short, Redick explains part of the reason he left the Clippers for the 76...
The Cavs are reportedly nearing a deal with Rose, but the Lakers will try to persuade him to...

The former NBA All-Star launched a successful second career overseas

Tom Thibodeau confirmed locking up Wiggins is the next step for Minnesota after a busy sum...