Derrick Rose says he's gained 10 lbs. of muscle
Bulls point guard also says he has to do more to save his body going forward.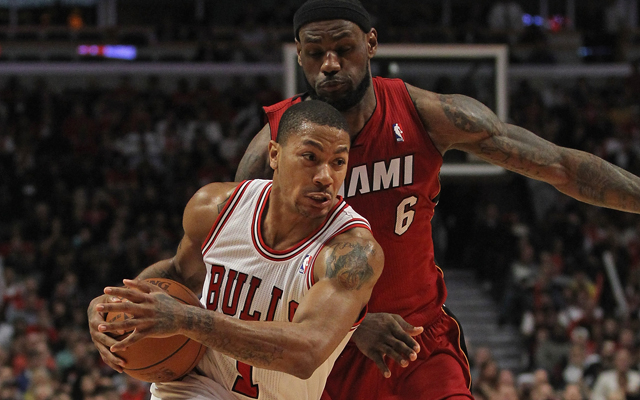 You all ready for the season? Because it's coming. You know how you know? MuscleWatch has begun! The annual tradition where players share how many lbs of muscle they've gained/fat they've lost. Your big name for Friday? Chicago Bulls point guard Derrick Rose, come on down! 
On his health status:

"Right now I'm in training, and I'm getting a lot stronger. I gained 10 pounds of muscle. I don't know how that's going to carry over to how I play on the court, but I know it's going to be very weird. I'm shooting a lot of shots right now, working with Rob, just putting memory back in my leg."

On how his added muscle will affect him on the court:

"With me, I was always kind of strong, but the way that I play, I hit tricky lay-ups and all of that stuff because going to the hole in my neighborhood, they don't call any fouls, so I was just used to hitting all types of shots. Now this year, I got a little more strength behind me, so I think going to the hole, taking those shots, I'll be able to finish a lot stronger this year. There should be a lot more and-ones, hopefully."

On the way his body changed during the recovery:

"I think I'm a lot quicker, a lot more explosive, and I think I'm gonna go this year without that many nagging injuries, just trying to prevent it by stretching and doing all the things I have to do to take care of my body. When you first come in the League and you're talented and you're athletic, you don't care about stretching or anything. You just kind of go out there and overlook that stuff. But now it's my sixth year, so you really have to look at that and take that more seriously so I can prevent all of the little injuries."
via SLAM ONLINE | » SLAM 172 is On Sale Now!.
That last part is actually the more relevant quote here. Every player has that moment when they realize they're human and have to adapt their game. Dwyane Wade had it, and his adjustment coincided with a downgrade in production. Chris Paul had it, and started skating through the back halves of seasons. It's an 82-game season and then hopefully at minimum 20 more playoff games. You have to conserve your energy and save your body from the wear and tear. It's difficult to learn, but Rose had to learn it an early age. 
The ACL tear is the main thing, but people forget he played in just 39 games the season before the injury. It's going to take adjustments. It's going to take more work in keeping his condition. And it's going to require restraint, the hardest thing for a competitor to learn. 
We'll see what Derrick Rose 2.0 looks like, hopefully on October 29th in Miami. 
Show Comments
Hide Comments
League to host its first awards show to announce the winners of major honors, such as MVP

They'll be the only team in the league wearing Jordan Brand uniforms next season

On a night of blowouts, Stephen Curry led the Warriors to a sweep and the Raptors got their...
The playoffs are getting interesting

The Cavs and Warriors have both swept their first-round opponents

Our NBA experts predict the first round of the playoffs