Derrick Rose was a late scratch by Krzyzewski for Team USA Wednesday
Derrick Rose was held out of Wednesday's exhibition against the Dominican Republic by Mike Krzyzewski.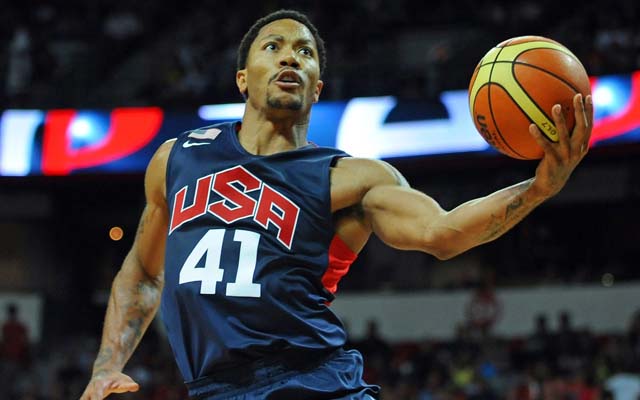 Team USA cruised to a 105-62 win over the Dominican Republic without the help of Derrick Rose. The Chicago Bulls' star was held out of Wednesday's action by coach Mike Krzyzewski after suffering a little soreness in his knee recently. Coach K told the media this was due to his decision and a desire to see some of the other players in Rose's place with the team needing to cut down the roster in the next two weeks before the FIBA World Cup in Spain.
Word just coming in that Coach K is giving Derrick Rose one more night off. He now will NOT play tonight against the Dominican Republic

— Marc Stein (@ESPNSteinLine) August 20, 2014
DRose went through shootaround this morning with no issues and was said to be moving well. In uniform on the bench tonight but won't play

— Marc Stein (@ESPNSteinLine) August 20, 2014
Kyrie Irving was given the start over Rose and Damian Lillard saw quite a bit of action off the bench as well. Rose has been given a lot of rest this week and USA Basketball has a bevy of guards and perimeter players to choose from with Stephen Curry, Rose, James Harden, and Irving looking like locks. Lillard, DeMar DeRozan, Klay Thompson, Gordon Hayward, Chandler Parsons, Rudy Gay, and Kyle Korver are all perimeter players who are competing for the final spots on the roster.
The FIBA World Cup schedule has Team USA playing five games in six days during the first week of action. They'll play two games in a row, have a day off on Day 3, and then play three games in the next three days. Rose's health and ability to endure that kind of schedule after overcoming so much with his knee in the last two years has been questioned.
Unfortunately, Antoine Walker was not involved

The newly minted league MVP said he wanted to enjoy his big moment

Westbrook became the second player ever to average a triple double for an entire season.
Jeff Van Gundy is stepping back into coaching

When it comes to naming MVPs, particularly in basketball, we can't seem to figure out what...

Russell Westbrook finally receives validation