Doc Rivers admits he 'walked away' from Boston Celtics
Clippers coach admits Wednesday return will be emotional but doesn't think it will carry any negative emotions for anyone after he left for LA in June.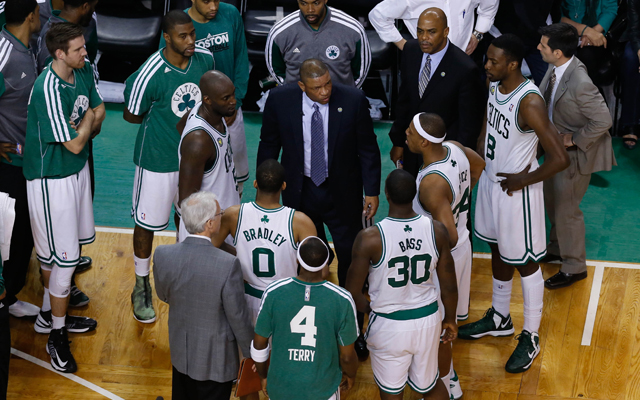 On Tuesday before Doc Rivers faces his old team the Celtics on Thursday in Boston, the Clippers head coach spoke on local Boston radio about his decision to leave the team to take the Clippers job, and if he "walked out" on the team that had built such a culture around him following the championship season of 2008. 
"I did at the end of the day," Rivers admitted. "You make choices in your life, it happens… It was a very difficult decision for me to make; whether to walk away and sit a couple of years, which was another way I was leaning, or if the right job presented itself to walk away and do that.

"I was afforded a great opportunity here with the Clippers. This is the first time I've been able to coach a team and run a team," Rivers continued. "This may work, it may not work. It's a far bigger gamble for me than anyone else. So I thought it was the right time to take it."
via Doc Rivers On Felger & Mazz: 'I Did (Walk Out On Celtics)' « CBS Boston.
Rivers took a lot of heat from Boston fans and media, most notably ESPN columnist Bill Simmons, for supposedly "quitting" on the team as it spiralled towards a rebuild, after he'd said several times he would stay through such a scenario to finish his contract. The Clippers eventually traded draft picks and cash considerations to the Celtics for the right to negotiate a deal with Rivers in June. 
Rivers also said that while Wednesday' semi-homecoming will be emotional for him, he doesn't see it as a tense or uncomfortable situation. 
"I don't think it's a big deal," Rivers told Felger & Mazz. "I think you guys make it a big deal. I put in nine great years here, and nine great years. There's no controversy here about that. That's the way I look at it. I've had such a good time today walking around the city and seeing a bunch of friends, going to my favorite places and restaurants.

"There are always changes in life, and that's what this was," Rivers said of his departure. "It was the right time for all of us, in my opinion.  It happened and you move on.

"Tomorrow will be an emotional day for me, I can tell you that," said Rivers.
Whether Rivers "walked out" or not is largely inconsequential because it presumes any level of real loyalty in sports. When players are no longer able to produce, they are traded or let go. The Celtics had planned to do that for a while with Paul Pierce, despite his having been with the franchise since he was drafted, well before the trade to the Nets on draft night. Coaches are brought in and given unbelievable pressure to succeed, and if they don't perform, regardless of injuries or roster issues, they are held accountable. It's a business. It doesn't take long to learn that. 
Rivers is gone, Ubuntu was nothing more than a slogan a team used to try and win a championship, everyone got paid and now the Celtics are decent with good prospects for the future. Everybody won. 
(Well, except Garnett and Pierce who look to be on one of the worst teams in the league, but hey, the season's still young! Unlike them! Ba-dum-ching!)
Show Comments
Hide Comments
Kerr is optimistic about making a full recovery

If this is their real list, some of the names are pretty hilarious

The bucket pushed the Spurs' lead to seven, and the Grizzlies never got that close again
The series shifts back to Washington for a pivotal Game 5

Trade Kanter? Re-sign Roberson? What about Westbrook?

The Celtics and Bulls meet in Boston for a pivotal Game 5