Doc Rivers remains silent on future with Celtics
The Celtics eagerly await to hear whether or not Doc Rivers intends to return as coach next season.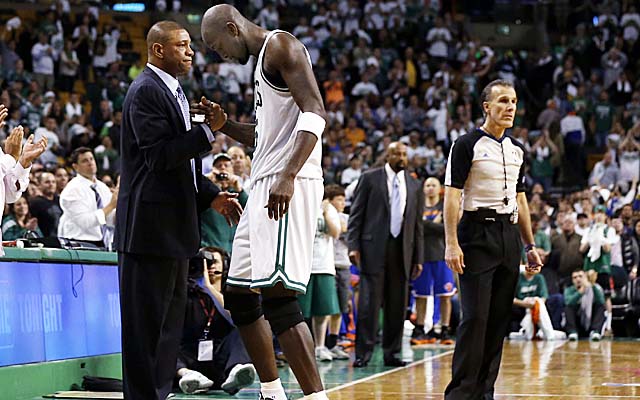 It wouldn't be a Celtics offseason without wondering if Doc Rivers would return as coach, now, would it?
Danny Ainge has said the plan is for Rivers to return, however with a potential transition finally headed Boston's way with Paul Pierce's future uncertain, that could change. 
Rivers has remained mum on his status with the team but reached out to the Boston Globe to at least let everyone know sort of what's going on:
Celtics coach Doc Rivers reached out to the Globe for the first time since the season concluded but would not offer any hints as to whether he will return in a text-message exchange Sunday evening.

Rivers said he needed to "detox" after the season and apologized for being inaccessible to reporters. But he would not give any indication whether he will be back for a 10th season although president of basketball operations Danny Ainge told the Globe last month that Rivers had planned to return.

Rivers himself has not confirmed that and with the Celtics season being over for five weeks, speculation has grown that the beloved coach is seriously considering stepping down. 
After getting knocked out of the playoffs in the first round by the Knicks, Rivers told reporters, "I'm coming back until I say I'm not," regarding his future with the team. 
Rivers, 51, told the paper he'd "rather not say" if he was still involved in the team's decision-making process, however he has been present at recent draft workouts.
Next season would be Rivers' 10th as coach of the Celtics. 
Rivers signed a five-year extension worth $35 million in 2011 and still has three years and about $21 million left on that. According to the report, it's seen as unlikely Rivers would hold the team "hostage" for more than a month about his future only to hang them out to dry by leaving while other qualified candidates were available on the coaching free-agent market. 
Asked when he'll speak publicly about the situation, Rivers simply said, "soon."
Show Comments
Hide Comments
Golden State swept the series, 4-0

Looking to complete the sweep, the Warriors came out on fire against the Blazers

How to watch the first-round series between Washington and Atlanta
Toronto can build on what it has started by going all-in on versatility and spacing

How to watch the first-round series between the Raptors and Bucks