Draft Buzz: Bulls seeking help for Derrick Rose
The Bulls' plan to fortify the roster around a healthy Derrick Rose begins to take shape, and other news and notes heading into this week's NBA Draft.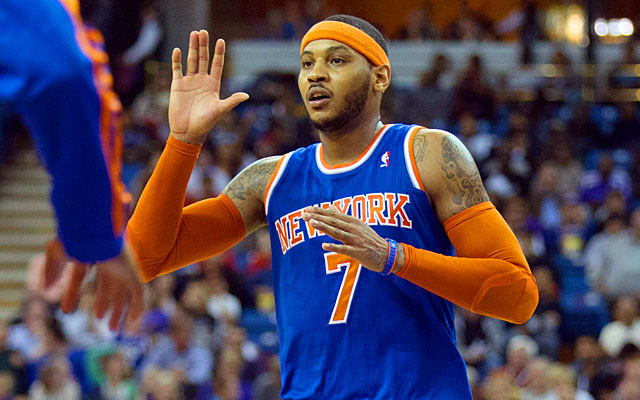 More Offseason Analysis: Coaching changes, news | Free Agency | Draft | Rumors
With the NBA Draft less than a week away, here's the latest news, notes and tidbits from executives, agents and others in the know around the league:
• The Bulls are emboldened by their options and flexibility heading into the draft and free agency, and the No. 1 reason just happens to be their most important piece of the puzzle: Derrick Rose. Rose is playing 5-on-5 on a daily basis, and, according to one witness, "looks like the old Derrick Rose." So much of the Bulls' future is tied to the former MVP regaining his form and health, but the team's focus now is getting him some help.
Chicago is open to moving one of its first-round picks, and a league source confirmed the club has had conversations with Orlando about a trade for Arron Afflalo. It would take a major shakeup -- amnestying or trading Carlos Boozer and trading Taj Gibson -- but the Bulls are well-positioned to make room for a much bigger catch: Knicks free agent Carmelo Anthony. With the Rockets needing to dump Omer Asik and Jeremy Lin to make room for Anthony, the Bulls could have the inside track if the Knicks' superstar decides he wants to move on. If the Bulls feel good about their chances of landing Anthony, they could move both of their picks to create room -- or dangle one in sign-and-trade talks with New York, which badly needs future assets. In addition to the 16th and 19th pick in this draft, the Bulls have Sacramento's 1-10 protected pick next year and the right to swap with Cleveland. If the Bulls use their pick at 16, they have long favored four-year college players; Shabazz Napier fits that bill, and also would fill a need with D.J. Augustin hitting the free-agent market.
• With Joel Embiid's foot surgery, and the reported 4-6 month recovery that comes with it, the Cavs are said to be leaning toward Duke's Jabari Parker with the No. 1 pick. Parker is more NBA-ready than Andrew Wiggins, who would go to the Bucks at No. 2. Rival executives believe it would be out of character for Cleveland GM David Griffin to trade the top pick, and believe Bucks GM John Hammond would be hard-pressed to deviate from the other consensus top player in the draft after Embiid's injury shook up the top of the lottery.
• The biggest beneficiary of Embiid's injury could be Australian shooting guard Dante Exum. Word among executives is that Orlando likes Exum at No. 4, but with Embiid dropping -- how far, nobody knows for sure -- Exum might not be gone by then. The Magic's dilemma: They want a top frontcourt player to pair with Nikola Vucevic and may not be able to get one they're comfortable with at No. 12. In that case, sources say they may opt for Indiana's Noah Vonleh with the fourth pick.
• Two players who are rising on teams' draft boards: Bosnian center Jusuf Nurkic and Louisiana-LaFayette point guard Elfrid Payton. Nurkic could be a stash option for the Bulls at 19, if they keep the pick, or for Atlanta at 15. The Hawks, in need of a wing, also are said to be considering James Young, Rodney Hood and Gary Harris.
• Charlotte, which has the ninth and 24th picks, is said to be focused on consensus player of the year Doug McDermott of Creighton or Michigan shooting guard Nik Stauskas at No. 9. Look for the Sixers to take whichever one is still on the board at 10.
• With the Knicks' first-round pick residing with the Magic (from the Anthony trade with Denver), Phil Jackson is eager to buy his way into the bottom of the first round. Jackson's targets: Tyler Ennis or P.J. Hairston. Jackson's problem: Since the Knicks gave Toronto $1.4 million in the Andrea Bargnani trade, the Knicks only have $1.8 million to offer for a pick. Hard to imagine that being enough to get a first-round pick in this draft.
• There are strong indications that Dario Saric's invitation to the draft-night green room is the result of a promise from the Nuggets to grab him with the 11th pick. Teams in the mid-to-late lottery have tried to get Saric to come in for workouts, but have been told he'll be gone by the time they pick.
• With Kyle Lowry (unrestricted) and Greivis Vasquez (restricted) both hitting the free-agent market, Toronto is believed to be taking a hard look at Ennis and Napier with the 20th pick.
• The Bucks, with the 31st pick, have shown some interest in Michigan's Mitch McGary, who had season-ending back surgery in January. Milwaukee is the only team known to have worked him out.
Griffin and the Clippers are at a crossroads

"He left because he wanted to be with James Harden," the Los Angeles coach said

The Warriors have shown that simply putting talent together isn't enough
Hayward will be in Miami this weekend, while Utah and Boston also have meetings scheduled

Sacramento signs Serbian to 3-year, $36 million contract while passing on Ben McLemore

Free agency is around the corner, which means there could be a ton of significant moves coming...