Draft Buzz: Rockets make play for Dwight
The Houston Rockets are making a bold push to acquire two top-10 picks in an effort to trade for Dwight Howard, even if the All-Star center won't give the team a long-term commitment, multiple sources told CBSSports.com.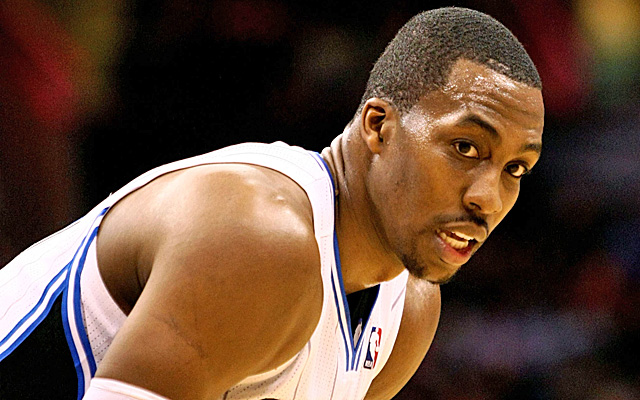 After losing out on Carmelo Anthony, Houston has its sights set squarely on Howard. (US Presswire)
The Houston Rockets always seem to be in the mix when it comes to the big names. There's no bigger name on the trade market this summer than Dwight Howard , and Houston is making a bold push to acquire two top-10 picks in an effort to trade for the All-Star center, multiple sources told CBSSports.com.
Houston agreed Tuesday to send Chase Budinger to the Minnesota Timberwolves for the No. 18 pick in Thursday's draft, giving the Rockets the 14th, 16th and 18th picks. But sources said the Rockets aren't done; they're trying to parlay those picks and other assets into two picks in the top 10 to entice Orlando Magic to send them Howard.
The Rockets, who similarly pursued a trade with Denver Nuggets for Carmelo Anthony without assurances that the All-Star would sign there long-term, are prepared to move forward with a Howard trade without a guarantee from the 7-footer that he'd sign a long-term deal. Howard is on the books for only one more year at $19.5 million and would become an unrestricted free agent in 2013.
If Houston fails to land Howard, the team is said to be interested in Atlanta Hawks forward Josh Smith as a fallback option. The Hawks' newly signed general manager, Danny Ferry, may have to move Smith this summer after the Atlanta native expressed a desire for a change of scenery.
Other draft buzz from conversations with executives and agents with the draft a little more than 48 hours away:
* After Anthony Davis goes to New Orleans with the No. 1 pick, the next four picks, in some order, will be Thomas Robinson, Bradley Beal, Michael Kidd-Gilchrist and Harrison Barnes, sources say. The draft really begins with the sixth pick, with strong indications in recent days that the Portland Trail Blazers would take Damian Lillard of Weber State. But in the past 24 hours, two other names have surfaced with respect to Portland: Dion Waiters and Austin Rivers. That could be an indication that Portland is considering trading the pick.
* Cleveland Cavaliers wants Beal and has offered the No. 4 pick and either the 33rd or 34th pick to Charlotte for the No. 2 pick, which would allow the Cavs to jump ahead of Washington Wizards and land the Florida guard. The hangup is that Charlotte, not in love with anyone available at No. 2, wants Cleveland's 24th pick. Cleveland also has had conversations with Sacramento Kings (No. 5) and Golden State (No. 7), but the Charlotte deal makes the most sense and sources say there is enough momentum and desire on both sides to get it done. The Charlotte Hornets like Robinson and Barnes, and at least one of them will be available at No. 4; if Cleveland got Beal with the second pick, Washington might take Barnes at No. 3, sources said.
* Waiters is one of three players the Golden State Warriors are considering with the seventh pick.
* The Toronto Raptors would take Waiters with the eighth pick, but if he's gone, sources say Toronto would take Rivers or Jeremy Lamb.
* The Detroit Pistons would "absolutely" take Andre Drummond with the ninth pick. If he's gone, Detroit is believed to be comfortable with John Henson or Tyler Zeller.
* Rounding out the top 10, the New Orleans Pelicans are believed to be targeting Rivers, Lamb or Meyers Leonard, sources said. The wild card of the top 15 is Jared Sullinger based on concerns over a medical issue with his back.
Show Comments
Hide Comments
The Celtics coach appeared to be upset when the chants broke out

Cleveland will host Toronto on Monday

Boston will host Washington on Sunday
Nothing can happen until Cleveland's season is over, however

Boston finished Chicago in six on Friday