Draft Options: What can the Lakers do with the No. 7 pick?
A look at the Lakers' options with the seventh pick in the draft.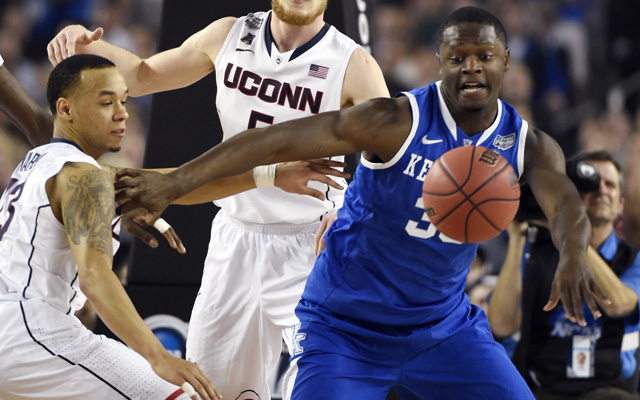 More Draft: Mock drafts | Draft news
From now until the NBA Draft on June 26, we'll be looking at the options of the teams picking based on their likely menu of choices, draft or trade. We continue with the Los Angeles Lakers and the No. 7 pick. The Lakers need talent, but more than that, they need someone to help Kobe Bryant continue his title contention and someone to help lure free agents. They're just high enough where they may not get a real impact player, and just low enough to where they can't trade it for top value. So what do they do?
Previous Draft Options: Cavaliers | Bucks | 76ers | Magic | Jazz | Celtics
DRAFT OPTIONS
Let's take Embiid, Wiggins and Parker off the board. It would take a nearly catastrophic collapse for Exum to fall this far, same for Vonleh and Randle. But we'll keep them all on the board here, just in the event that one is available. It's reasonable to think they could slip this far, even if it's unlikely.
Draft Dante Exum: Nothing makes as much sense as this. Exum's agent is Rob Pelinka, who is Kobe Byrant's agent. He has an obvious and stated affection for LA and the franchise. The Lakers need a point guard, a big guard who can defend and create offense off the dribble. It's a tremendous fit. If Exum is there, he should be the pick, for a number of reasons. Steve Nash could retire or be traded. Exum fits the culture and team and gives them a guard to learn under Bryant and lead after he's gone.
Draft Julius Randle: If Randle's on the board, and Exum is not, this is a no-brainer. Randle has a ruthless, aggressive, alpha-dog approach that will resonate with Bryant. This is a bigger factor than you might think. The Lakers have gone all-in on Bryant for the remainder of his career. If they're going to use this pick to find someone to fit in with the current approach to winning a title while also building for the future, you need to find someone who is tough enough to survive and thrive under Bryant. Let me put it this way. You're not looking for a young Pau Gasol here, despite how well Gasol and Bryant played together later. Randle has aggressiveness and the ability to score in the post. He can work in the pick and roll and attack the glass. Randle might benefit more from playing with Bryant than any other player in the draft.
Draft Noah Vonleh: For some teams, Vonleh is exactly what the doctor ordered. But Vonleh to LA is complicated. He needs time to develop, time they don't have. He needs a big next to him to help with the boards, and the Lakers don't really have that (he and Jordan Hill would be complicated). He's an inside-out, stretch 4-5 with a complicated skillset. Not exactly plug and play. Maybe Vonleh would hit the ground running and fit in perfectly. But this seems relatively dangerous.
Draft Marcus Smart: It's like drafting the point guard version of Kobe! Kind of. Anyway, Smart can play point guard, especially in the Lakers' system which primarily means dribbling up and giving the ball to Bryant. Bryant would no doubt like his fearlessness. The Lakers' biggest issue was perimeter defense last year and Smart is a strong, agile defender who can be a lockdown player if he commits to it and is coached correctly. Smart's a decent choice, but they might be able to trade down and still get him. Smart has a high likelihood of being on the board, fills a need, and is a good cultural fit.
Draft Aaron Gordon: Gordon is super-athletic and can play multiple positions. He helps on defense, an area of need, but doesn't have a huge skillset. He can make an immediate impact and would work well as a complimentary player. But in his first season, he's unlikely to add significant wins to their total. Gordon is likely to be available and if the Lakers decide to re-sign Pau Gasol, could play in either the 3 or 4 spot next to him and help on the glass.
Draft Dario Saric: A forward who can put the ball on the floor, score and rebound. The Lakers need production and Saric is likely to still be there at No. 7. The Lakers have long embraced international players and have a good history of making the process smoother. Saric isn't going to sell a lot of tickets. Luckily, the Lakers could roll out a rerun of "Cheers' from 1991 and still sell tickets.
TRADE OPTIONS
Trade up: Doesn't seem likely. The Lakers would have to give up another first-round pick. They have no one on roster to use as bait with the No. 7 pick to move up since they're all scheduled to be free agents. Even if the Lakers offered the No. 7 and their 2015 first-rounder, who would take a worse pick next year in exchange for a better one this year?
Trade down: The Lakers need talent. Trading down defeats that purpose. Unless they're really set on someone in the teens as a potential reach/steal, there's no value in moving down for them. They need an impact player. They need as high a pick as possible.
Trade for a star: Or as it's affectionately called, "The Laker Way." They're used to situations in which the Wolves would pretty much take the seventh pick and Steve Nash for Kevin Love. I mean, it's possible that the Wolves would do this. It's the Wolves. It would help if the Wolves had a former Laker in charge or something. But alas. Still, the Lakers could look to move the No. 7 to a team if someone unexpectedly comes up. They'll be open to that kind of a move, but the options don't readily present themselves.
Show Comments
Hide Comments
The two best point guards in the East go at it in a series sure to be filled with drama.

Breaking down key matchups as the second season reaches the conference semifinal series

The second round of the 2017 NBA Playoffs tips off Sunday at 1 p.m. ET, with Game 1 of Cel...
The Spurs have homecourt advantage, and will host Game 1 Monday night at 9:30 p.m. ET

All-Star guard flew to Washington after Game 6 vs. Bulls to attend his sister's funeral Sa...

Some love for the Rockets over the Spurs, and at least one expert says the Cavs are going...