Dwight Howard says GM Kupchak has told him he won't be traded
Dwight Howard says he's been told he will not be traded by Lakers GM Mitch Kupchak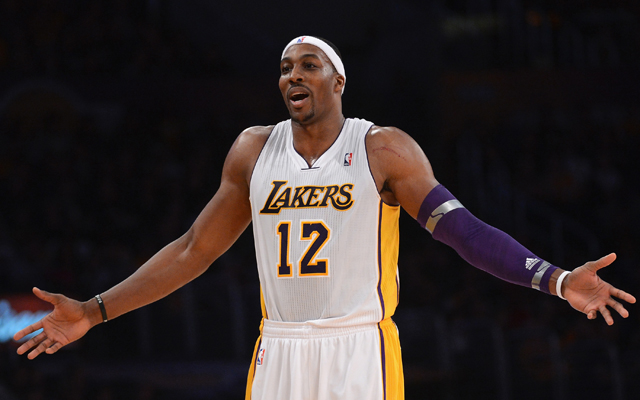 Howard says he's been told he won't be traded.
(Getty Images)
With the Lakers' disastrous season unfolding, there are questions about whether Dwight Howard and Kobe Bryant can co-exist, and with Howard a free agent this summer, trade rumors have lingered. Would the Lakers consider trading the franchise center who was supposed to take over for Kobe eventually? 
The Lakers have repeatedly informed media that they don't expect to make a trade, but those things are always up in the air. At All-Star availability, Howard weighed in on the trade rumors. From Ken Berger of CBSSports.com in Houston: 
Dwight Howard says Lakers GM Mitch Kupchak has told him definitively he will not be traded before Feb. 21 deadline.

— Ken Berger (@KBergCBS) February 15, 2013
Here's video courtesy of NBATV of Howard answering questions about the trade and on the situation with the team from Berger for CBSSports.com:
Howard told reporters when asked what makes him happy, "having fun on the court." Kobe Bryant told reporters after the loss to the Clippers on Thursday that "laughing and joking" after a 20 or 30-point loss was unacceptable. So... yeah, not exactly on the same page there. 
More from All-Star Weekend
Related links
All Star Weekend 2013 updates
More NBA coverage
The Lakers are four games under .500 at the All-Star Break. Howard is averaging the lowest totals and percentages since the second season of his career. 
Trading Howard still represents too much of a risk for Kucphak, though. For one, Howard has been limited by shoulder and back injuries, and if those were to improve, the entire season might be different. Two, getting equal return is nearly impossible, as the Magic know. And three, Howard maintains he'll enter free agency. The only team he would likely sign an extension with is Brooklyn, and they lack the resources to trade for him, in all likelihood. 
Howard told reporters Friday, regarding his free agency decision:
"I should have the opportunity to make my own decision. I shouldn't be pressured or criticized for waiting till the end of the year. It's not fair to the fans, or the team." 
I'm sure the good people in Orlando and the Magic players are glad to hear that. 
Howard will start Sunday for the Western Conference All-Stars despite his shoulder injury.
You can follow Eye on Basketball on Twitter @EyeOnBasketball. Follow Matt Moore at @MattMooreCBS and like us on Facebook. 
Show Comments
Hide Comments
The playoffs are getting interesting

The Cavs and Warriors have both swept their first-round opponents

Houston has a 3-1 lead. Here's how to watch the rest of the series
The series returns to Los Angeles for a pivotal Game 5

How to watch the first-round series between L.A. and Utah

How to watch the first-round series between San Antonio and Memphis