Dwight Howard takes to Twitter, apologizes for ejection
Dwight Howard apologizes on Twitter for his ejection, and said he wants to 'ake it up to Lakers fans.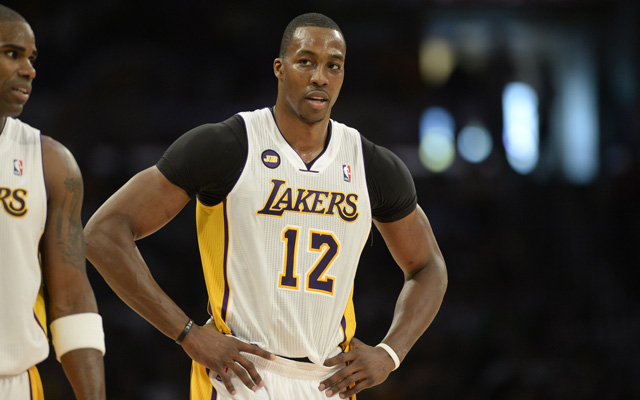 After he was ejected in the second half of the Lakers' Game 4 elimination at Staples Center Sunday night for arguing with officials, Dwight Howard took to Twitter to apologize. 
Im still upset about tonights game and the way this season ended. Im mad I lost my cool. Im sorry for letting my team and our fans down when

— Dwight Howard (@DwightHoward) April 29, 2013
when they needed me the most. If there's one thing I've learned this year its that I need to be more responsible for my actions and learn to

— Dwight Howard (@DwightHoward) April 29, 2013
to "breathe"! (Maybe I will take up yoga and come back calmer or @charliesheen can help me with my anger management) But despite our tough

— Dwight Howard (@DwightHoward) April 29, 2013
season, it is an honor being a member of a team with this amazing history & the best fans in the league!

— Dwight Howard (@DwightHoward) April 29, 2013
I hope I get the chance to make it up to you!" Thank u la.

— Dwight Howard (@DwightHoward) April 29, 2013
As Magic Johnson noted, Howard simply cannot get ejected from that game, no matter how frustrating it was. The team needed him, and there's something to be said for how you lose.
It's good that Howard at least apologized. The year was a disaster and while Howard was a part of that, he wasn't the only part, and he's definitely a part of their future. His final statement is particularly interesting and being read as if he is planning on coming back. 
But that's pretty standard stuff from a free-agent-to-be. "I hope I get the chance." The objective is to always make it seem like there are forces beyond your control. Howard controls his destiny. If he wants to return, the Lakers will pay him the most money they can. It's his choice. Just like getting ejected was a decision. 
We'll see if Howard gets to change the final memory for Lakers fans, of him walking through the tunnel after being ejected in a blowout sweep loss. 
Show Comments
Hide Comments
Our Latest Stories
Booker had a prolific, but unusual, scoring night

Boston's All-Star guard: 'It's weird what they were doing'

The second-year Suns guard got a lot of love on social media
Second-year guard's franchise record includes 51 in the second half, 28 in the fourth quar...

Former Laker greats, including Kobe Bryant, speak at ceremony

Who faces who, who's in, who's out, and what happens next?