Dwyane Wade set to return after four-game absence vs. Spurs
In a rematch of the 2013 NBA Finals, Heat guard set to return to lineup after missing four games with knee soreness.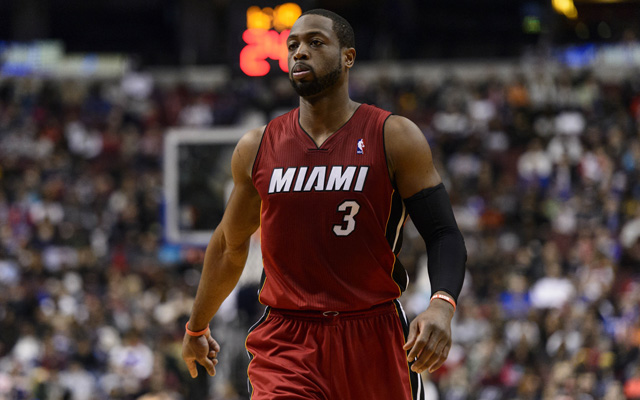 After missing four games with knee soreness, Miami Heat guard Dwyane Wade is expected to return to the lineup Sunday afternoon vs. the San Antonio Spurs. 
The Heat have been struggling lately, especially defensively, and Wade's athleticism, limited though it may be due to age and injury, has been part of the reason. It would indicate the level to which the Heat take this game against the Spurs seriously, in a season in which they have clearly coasted coming off their second championship. 
The Heat's defensive issues have extended beyond simple effort to ability thanks to an aging roster and Wade's not exactly a spring chicken. But his return to the lineup does mean that rotations go back to normal meaning older players are playing fewer minutes as well as younger, less experienced players. 
The game marks the first meeting of the two teams in Miami since the Heat mounted their historic comeback in Game 6 of the Finals and then won the NBA title in Game 7 last spring. 
Show Comments
Hide Comments
This is fuel to the Westbrook haters' fire

How to watch the first-round series between L.A. and Utah

The playoffs are getting interesting
Harden didn't play great, no one could shoot, and the Rockets still rolled to a 4-1 series...

The Cavs and Warriors have both swept their first-round opponents

They weren't discussing their favorite movies