EOB presents the NBA Elite 100: No. 19 through No. 11
A continuing ranking of the Elite 100 players in the National Basketball Association.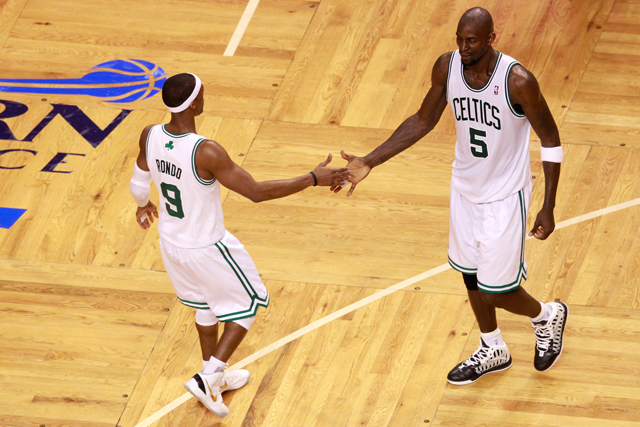 Rajon Rondo

and

Kevin Garnett

took the Celtics to the East finals, earning them top 20 status in our Elite 100.
(Getty Images)
Last year we ranked the Elite 100 players in the National Basketball Association. Our crew of three, which watches every NBA team on a regular basis throughout the season, evaluated the players using all the criteria we could -- past performance, recent production, injuries, projected improvement, character isssues, decision-making, basketball IQ, advanced metrics, team fit -- everything. 
The rankings are prepared by the three bloggers for Eye on Basketball: Royce Young, Ben Golliver and Matt Moore. The rankings are averaged and listed here in random order. Last year's rankings are in parentheses.
Earlier this week, we unveiled No. 100 through No. 50 and then No. 49 through No. 40, No. 39 through No. 30 and No. 29 through No. 20. Check out the guys who fell out of the top 100 between 2011 and 2012 here. The following is No. 19 through No. 10. 
No. 19: Kyrie Irving , PG, Age 20, Cleveland Cavaliers  (2011 ranking: Not Ranked)

2012 Stats: 18.5 ppg, 5.4 apg, 3.7 rpg, 1.1 spg, 46.9 FG%, 21.4 PER
Rankings: 22, 16, 17
The 2012 Rookie of the Year is the highest-ranked newcomer on this year's list. His entry into the top-20 of his sport after just one season at Duke and a sensational rookie season reflects his transformational power. The Cleveland Cavaliers couldn't ask for a better franchise player to lead their post-LeBron James turnaround. Irving is an intelligent, well-spoken, media-savvy leader whose broad skill-set has him on track to be a perennial All-Star. What sets him apart from other gifted, young point guards is the range on his jumper. As a teenager in the NBA on a team that needed him to score, Irving shot nearly 40 percent from deep. That's remarkable. 
Irving's contemporaries hail his maturity and feel for the game. At USA Basketball training camp this summer, LeBron James and Chris Paul said that Irving was the Select Team's standout player; Irving would seem to be the most logical successor to Paul as starting point guard on the National Team whenever the Los Angeles Clippers All-Star gets sick of stacking up gold medals. Had he not flukily broke a bone in his hand, he would have stolen the headlines at Las Vegas Summer League.
Cleveland finished in the Central Division basement last season, in part because Irving missed a long stretch after suffering a concussion. The Cavaliers continue with a carefully thought out youth movement rebuild so team expectations aren't all that high. But Irving is the type of player who could put this group on his back and have Cleveland in contention for a playoff spot. 
No. 18: Deron Williams , PG, Age 28, Brooklyn Nets  (16)
2012 Stats: 21.0 ppg, 3.3 rpg, 8.7 apg, 1.2 spg, 40.7 FG%, 20.3 PER
Rankings: 16, 22, 16
The circus ends and the real basketball begins for Deron Williams after he inked a five-year, $100 million extension with the Brooklyn Nets (on an iPad!) this summer. No more trades, no more trade rumors, no more journeys to Turkey during the lockout and no more draft lottery appearances. In other words, no more excuses and, hopefully, no more pouting. His unique mix of size, strength, quickness, vision and ball-handling makes him worth every penny of the nine-figure investment, but the franchise player contract brings with it responsibiltiies and increased expectations.
Thanks to some psuedo-insane spending by ownership, Williams has the horses around him to make a playoff push in the Eastern Conference. Regarded as one of the league's elite point guards for years now, Williams will be judged this season on his ability to be the straw that stirs the drink. He should enter the season on a nice high, thanks to a gold medal in London and the Nets' splashy move from New Jersey to Brooklyn. After the initial excitement wears off, Williams will bear responsibility for finding the right balance between initiating his own offense and ensuring Joe Johnson gets sufficient touches. He will be key in getting Brook Lopez back on track after a injury-plagued season and he'll be the leading voice in a locker room full of new faces that will need to gel on the fly. With a new city, new contract and new teammates, Williams is finally settled. Now it's time to deliver.
No. 17: Pau Gasol , PF, Age 32, Los Angeles Lakers  (9)
2012 Stats: 17.4 ppg, 10.4 rpg, 3.7 apg, 1.4 bpg, 50.1 FG%, 20.5 PER
Rankings: 20, 21, 12
For the second straight season, Pau Gasol left observers thinking he should have been doing more to prevent the Los Angeles Lakers exiting the playoffs in the Western Conference semifinals. In 2012, as in 2011, he simply wasn't the consistent offensive threat he had been during L.A.'s earlier title runs. He floated a bit, looked indecisive with the ball, and was passed over a bit in the pecking order thanks to the emergence of Andrew Bynum . The concern, given Gasol's age, is that his best days might be behind him.
In his defense, the Lakers lacked flow last season, in part because of issues at the point guard position and in part because they were in their first season under coach Mike Brown. The bigger story: both of L.A.'s big summer additions figure to aid Gasol immensely. In Steve Nash , Gasol gets a veteran point guard with an elite feel for setting up big men in their go-scoring locations. In Dwight Howard , Gasol gets an improved version of Andrew Bynum, at least on paper: more agile, more likely to command double teams that free Gasol, and a better post defender. Howard also should relieve much of the pressure and scrutiny that Gasol has faced in recent years.
There will be some growing pains as this group figures out its chemistry isses but the influx of talent should free Gasol to be a devastating weapon, who finds himself open a lot because he's now the fourth option, rather than the whipping boy who seemed doomed to be a letdown because external expectations exceeded his ability to influence wins and losses.
No. 16: Kevin Garnett , PF, Age 36, Boston Celtics (21)

2012 Stats: 15.8 ppg, 8.2 rpg, 2.9 apg, 1.0 bpg, 50.3 FG%, 20.4 PER
Rankings: 14, 13, 26
It's unusual for a player at Kevin Garnett's age to enjoy a significant bounce up in these rankings. Then again, it's unusual for a player to be as productive, important and successful as Garnett remains. Even with rumors circling that he might retire this summer, Garnett was as critical as always for the Boston Celtics, who came within one game of the 2012 NBA Finals. 
His raw numbers haven't changed much over the past four years and neither have the keys to his game: aggressive defense, mental toughness, a smooth jumper and a willingness to do whatever it takes to win. If there's been a difference as he's progressed through his 30s, it's that his night-to-night consistency isn't always there. But to harp on the nights that he doesn't have sufficient juice would be an injustice. This is a player who scored at least 20 points and grabbed at least 10 rebounds in nine of Boston's 20 playoff games this year. He had 28 and 14 in the closeout game over the Atlanta Hawks. He had 18 and 13 in a Game 7 win over the Philadelphia 76ers . In a must-win in Game 3 against the Miami Heat, he put up 24 and 11 and then added 26 and 11 in Game 5 to give the Celtics a 3-2 series lead. All that was missing was one more vintage performance to close out the Heat and, alas, Garnett couldn't muster it up. Regardless, he made the right call in putting off the retirement talk and agreeing to a 3-year contract for $34 million. He's got plenty of basketball left and a revamped roster around him that should help carry some of the load. 
No. 15: LaMarcus Aldridge , PF, Age 27, Portland Trail Blazers  (13)
2012 Stats: 21.7 ppg, 8.0 rpg, 2.4 apg, 51.2 FG%, 22.7 PER

Rankings: 17, 21, 14
LaMarcus Aldridge had almost identical years statistically in 2010-11 and 2011-12, but the two seasons couldn't have been more different. In 2010-11, Aldridge emerged as one of the NBA's breakout stars, finding his way to the All-NBA third team after being snubbed for the All-Star Game. In 2011-12, everything fell apart around him, as his Portland Trail Blazers fired the only coach he had known in the NBA, Nate McMillan, and traded off veterans to begin a youth movement. A quiet, lead by example type, Aldridge has developed into a reliable force both on the block and from his favorite mid-range jump-shooting location. His soft hands and length make him an ideal target for lobs, too. His ability to get points easily made him a steady piece in the middle of Portland's cyclone and earned him his first trip to an All-Star Game, but they weren't enough to keep the Blazers' locker-room house in order when things started to go south. By the end, he was a bystander, sitting out the final few weeks of the season before undergoing a minor hip surgery.
His leadership skills are still a work in progress and they are needed now more than ever. As he enters his prime, Aldridge, who is expected to be 100 percent healthy by the time camp opens, faces the prospect of a 25-30 win season with a new, much younger cast of teammates and a new coach, Terry Stotts, who arrives from the Dallas Mavericks with promises of utilizing Aldridge in Dirk Nowitzki-like ways. While Aldridge is under contract with the Blazers through 2014-15, he likely will find himself in the midst of trade rumors at some point over the next few years, especially if Portland's rebuild is slow-moving. Why? He's an elite talent in a small market, he's yet to win a playoff series during his career, Portland lacks a second All-Star following the departure of Brandon Roy. Portland also has struggled to land top-shelf talent in free agency in recent years. Like Chris Bosh and Deron Williams before him, Aldridge finds himself in a situation where he has a lot more to offer the Blazers than vice versa. To this point, Aldridge has made no public indication of unhappiness but his future -- along with the development of promising rookie point guard Damian Lillard -- will be the top points of discussion in Rip City.
No. 14: Blake Griffin , PF, Age 23, Los Angeles Clippers  (10)

2012 Stats: 20.7 ppg, 10.9 rpg, 3.2 apg, 54.9 FG%, 23.4 PER

Rankings: 11, 19, 22
Inevitably, some of the luster came off of Blake Griffin last season. His rookie campaign -- complete with highlight dunk after highlight dunk, topped off by his car-jumping Slam Dunk Contest title -- was so jaw-dropping and remarkable that it set an impossible standard. Griffin, like any phenomenon, took some time to process for fans. Last season, the dunks (and monster stat lines) continued unabated. Indeed, Griffin appeared in every game for the Clippers for the second straight season, even fighting through a knee injury to stay on the court during the playoffs. But the nitpicking began, too. Griffin was seen by many as an incessant complainer to officials, an unscrupulous flopper and a shameless preener. His awful free throw shooting -- 52.1 percent -- became a big deal, too, seeing as he went to the line more than seven times a game. His nonexistent jumper and lack of post moves drew some heat, too.   
Even with the personality annoyances and limitations to his game, Griffin remains a revelation, one of the NBA's most athletic and fearless players. He was rewarded with a five-year, $95 million contract extension this summer, locking him in as a franchise centerpiece. His new partnership with Clippers All-Star point guard Chris Paul promises to bring postseason success, as it did in 2011-12 with a first-round series win over the Memphis Grizzlies, and Clippers management seems confident that the future is now, loading up on veterans to surround its All-Star duo this offseason. Griffin underwent arthroscopic surgery after tearing his meniscus in his left knee, the second time that knee had been operated on. Long-term, the big concern is that the knee injuries catch up to him before he's able to polish his all-around game. Short-term, he's expected to be ready to play for the Clippers' season opener and you can bet someone will get dunked on.
No. 13: Tony Parker , PG, Age 30, San Antonio Spurs (28)

2012 Stats: 18.3 ppg, 2.9 rpg, 7.7 apg, 1.0 spg, 48.0 FG%, 22.0 PER

Rankings: 18, 9, 13
Tony Parker seized two titles this year. First, he's now the most valuable member of the San Antonio Spurs. Second, he's now the member of the Spurs that doesn't get nearly enough credit on the national stage. There's been a transition of power from Tim Duncan brewing in recent years, but 2011-12 saw the Spurs succeed in Parker's image, the reason he jumped up 15 spots from last year's ranking.
A ball-moving, shot-making, tempo-controlling offensive juggernaut, the Spurs put up the NBA's best record thanks to what was probably Parker's best season as a pro. His career-high 7.7 assists per game made life easier for San Antonio's new crop of role players and his ability to break down defenders off the dribble and score when needed made the Spurs darn near impossible to defend for long stretches of the season. Seriously, pick an offensive category, and San Antonio was right near the top. The Spurs ranked No. 1 in offensive efficiency, No. 2 in true shooting percentage, No. 1 in effective field goal percentage and No. 2 in assist rate. Parker got a little love as a possible MVP dark horse and wound up finishing on the All-NBA second team. He was also named to his fourth All-Star Game after missing out the two previous seasons. Like Duncan for the last decade, he seems to have no problem quietly going about his business of achieving excellence. As Parker is under contract through 2014-15, we can expect at least three more years of the same.
No. 12: Rajon Rondo , PG, Age 26, Boston Celtics (22)

2012 Stats: 11.9 ppg, 4.8 rpg, 11.7 apg, 44.8 FG%, 17.5 PER
Rankings: 8, 20, 10
Much like Tony Parker, Rajon Rondo rises up the rankings in a big way this year by virtue of his transition from key piece to team MVP. The quirkiest and cheekiest big-time player in the league, Rondo achieved maestro status in 2011-12, averaging a career-high (and league-leading) 11.7 assists, even as teams repeatedly dared him to shoot.  
If there had been any doubt, Rondo solidified his reputation among the game's greats with the performance of his life in Game 2 of the Eastern Conference finals overtime loss to the Miami Heat: a stunning 44-point, 10-assist, 8-rebound, 3-steal effort that saw him play all 53 minutes because of various injuries to his teammates. For that game, and a few other stretches of the series, Rondo was the best player on the court, better even than 2012 MVP LeBron James. No one else during the 2012 playoffs can make that claim as convincingly.
The holes in Rondo's game remain. He has no consistent range on his jump shot, he probably gambles a bit too much on defense, he's prone to moments of hot-headedness when it comes to the officials and his personality takes some acclimation, as he reportedly rubbed Ray Allen the wrong way last season. But his strengths outweigh those weaknesses more than ever. The Celtics still have him on that bargain contract, too, paying the All-NBA third team member just $11 million next season, what amounts to probably a 20 percent discount off of his market value. The challenge this season will be one of integration. New Celtics Jason Terry , Courtney Lee , Jared Sullinger and (returning from a year away) Jeff Green will need to find comfort and a niche. Other than their counterparts in San Antonio, there isn't a better coach/point guard tandem than Doc Rivers and Rondo to make that process a success.
No. 11: Andrew Bynum , C, Age 24, Philadelphia 76ers (25)

2012 Stats: 18.7 ppg, 11.8 rpg, 1.4 apg, 1.9 bpg, 55.8 FG%, 22.9 PER
Rankings: 11, 11, 15
We know this about polarizing players in the NBA: drastic improvement isn't enough to silence the critics. That's exactly where Andrew Bynum found himself last season with the Los Angeles Lakers. He had, inarguably, a career year, posting career-highs in points and rebounds and asserting himself on offense, including late in games, more regularly than ever before. What's more, he made it through the season without a major health scare. He even found himself as a quasi-legitimate candidate in the "Who is the best center in the NBA?" debate for the first time in his life. In total, 2011-12 should have been a crowning achievement for a player finally scratching the potential that made him a lottery pick straight out of high school.
But no, that's not how it played out. Instead, Bynum kept getting in his own way. He didn't pay attention during coach Mike Brown's huddles, he launched a 3-pointer that got him benched, he continued to make life difficult for the California Highway Patrol, and he made some ill-advised comments during the playoffs, none worse than when he stated that "closeout games are easy." Once the Oklahoma City Thunder had eliminated the Lakers from the playoffs, following a game in which Bynum scored just 10 points and had just four rebounds, he appeared indifferent to his future with the Lakers. 
It all amounted to serious writing on the wall that it was time for a change of scenery. Bynum got that when the Lakers shipped him to the Philadelphia 76ers in a four-team blockbuster trade. In Philly, Bynum becomes The Man for the first time in his career. His game is ready for it and he seems to be embracing the opportunity. The 76ers' season, though, hangs on whether Bynum is really, truly ready to lead. (And on his contuining good health, too. He's slated to undergo treatment on his surgically repaired knee in Germay before the season begins.) Should Bynum rise to the occasion, or at least seem headed down the right path, a max contract will be his likely reward next summer.
Show Comments
Hide Comments
Thunder fans used the term 'cupcake' in reference to Durant after he left OKC in free agen...

There appeared to be some wishful thinking on the part of Charlotte general manager Rich C...

Thompson is one of the best shooters in the league, but it appears dunking isn't his speci...
Cuban was willing to part ways with employees who leaked ahead of the official announcemen...

Draymond wasn't mad about the move, though. He was mad about the way he heard about it

All-Star forward was sent from the Bulls to the Timberwolves on draft night