Eric Bledsoe heading to Suns in four-player, three-team deal
The Los Angeles Clippers get Jared Dudley and J.J. Redick, the Phoenix Suns get Eric Bledsoe and Caron Butler and the Milwaukee Bucks get two second-round picks.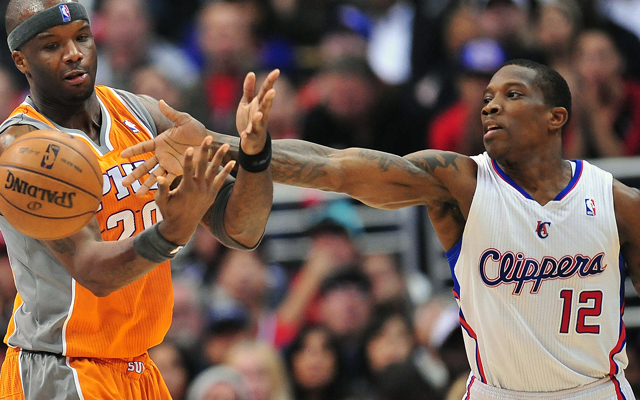 The Los Angeles Clippers have been looking for help on the wings to give Chris Paul and Blake Griffin plenty of space to operate. They've been rumored to be chasing shooting guards like O.J. Mayo and J.J. Redick throughout the first two days of free agency. It looks like the Clippers have filled that need affter working out a three-team deal with the Milwaukee Bucks and Phoenix Suns on Tuesday.
Ken Berger of CBSSports.com confirms the Clippers will acquire Redick in a sign-and-trade and Jared Dudley. The Suns will get Eric Bledsoe and Caron Butler, while the Bucks will receive two second-round picks.
The contract for Redick will be around four years and $27 million.
J.J. Redick gets a four-year, $27M deal from Clippers in three-team sign and trade, league source confirms.

— Ken Berger (@KBergCBS) July 2, 2013
Redick and Jared Dudley go to Clippers, Eric Bledsoe and Caron Butler to Phoenix and Bucks get two second-round picks, source confirms.

— Ken Berger (@KBergCBS) July 2, 2013
This is a huge deal for both the Suns and the Clippers, and it's a confusing deal for the Bucks. The Clippers were hoping to maximize their assets with Bledsoe and Butler's expiring contract, and this is exactly what that does for them. Redick was one of the most coveted shooters on the free-agent market as a career 39-percent 3-point shooter. Dudley is one of the most versatile wings in the league. He plays good defense and makes 40.5 percent of his 3-pointers.
For the Suns, they get a chance to start their rebuilding process with a budding young point guard who is a pesky defender and an incredible athlete. His ability to run a team is still in question, but he'll have a great opportunity to grow into that role without the pressure of winning right away for a Suns team that is in full-on rebuilding mode.
For the Bucks, it's hard to think they sold too low on Redick. Getting two second-round picks isn't a terrible haul, but Redick's value on the market had to have been worth more than that. They've now lost Redick and Mike Dunleavy, who signed with the Chicago Bulls in free agency so far this summer.
The trade won't be able to be completed until July 10, when contracts are able to be signed.
Hayward will be in Miami this weekend, while Utah and Boston also have meetings scheduled

Sacramento signs Serbian to 3-year, $36 million contract while passing on Ben McLemore

Free agency is around the corner, which means there could be a ton of significant moves coming...
The Knicks still intend to trade Carmelo Anthony even with Phil Jackson gone

Paul George is a college football coach at heart

CP3, the Point God, is headed to Clutch City, and the NBA landscape has again flipped on its...