Eric Gordon expected to miss final five games for the Pelicans
New Orleans Pelicans guard Eric Gordon is expected to miss the final five games of the 2013-14 regular season.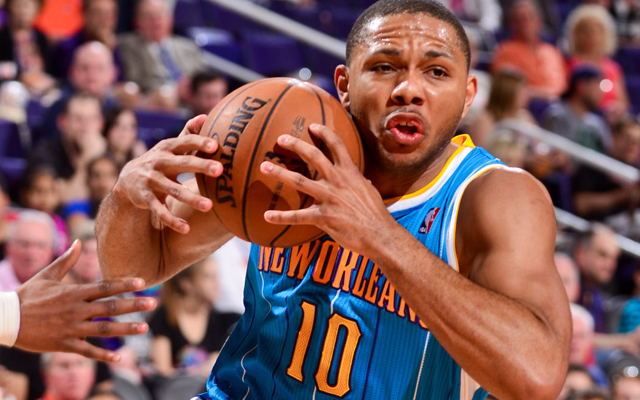 More NBA: Power Rankings | Expert Picks | Latest news & notes
When the New Orleans Pelicans' franchise (previously known as the Hornets) traded away Chris Paul to the Los Angeles Clippers, Eric Gordon and the first round pick owed from the Minnesota Timberwolves were the two big gets for the team giving up one of the best players in the NBA. Since that trade, the Clippers' franchise has flourished and the Pelicans don't have much to show for what they got in return. That draft pick ended up being Austin Rivers, who hasn't been all that good, and Gordon has missed significant time on the court.
Don't expect to see Gordon play through his knee tendinitis during the final five games of this season either. Coach Monty Williams told reporters after Tuesday's practice that he didn't expect Gordon to play the rest of the season. From NOLA.com:
New Orleans Pelicans coach Monty Williams said he doubts shooting guard Eric Gordonwill return for the final five games of the regular season because of his tendinitis problem in his left knee.

''He's getting evaluations on his knee,'' Williams said after Tuesday's practice. ''It's the same place (Gordon's situation) we were the other day. I doubt that he'll play anymore this year, but that's me.''

After traveling with the team for this past Wednesday's game against the Denver Nuggets, Gordon left for Los Angeles to get his knee examined by doctors.
So far, Al-Farouq Aminu has been the best asset in the deal for Paul while Chris Kaman has gone on to other teams, Rivers was selected with the pick and has struggled, and Gordon hasn't been able to consistently get on the court. Gordon has played in just 115 of a possible 230 games since joining the Pelicans and will end up missing 18 games total this season if he sits the final five contests.
This has definitely been the most productive Pelicans' season for Gordon by averaging 15.4 points on 43.6 percent from the field and 39.1 percent from downtown in 64 games. He played just nine of the 66 games his first year with the team, then signed a max contract offer sheet with the Phoenix Suns, which was matched by New Orleans. Gordon has missed nine straight games.
Show Comments
Hide Comments
The Pacers president was there to deliver Indiana's bid for the 2021 All-Star Game

Is Paul George in a Laker uniform just a formality at this point?

Kerr may miss the entire playoffs due to complications from back surgery
The excitement was just too much to handle, apparently

Westbrook noticed something the players all had in common

The reserve guard has missed the last 11 games for the Clippers