Eric Gordon undergoes arthroscopic surgery on left ankle
Pelicans guard Eric Gordon undergoes arthroscopic surgery on his left ankle, which could impact efforts to trade him this summer.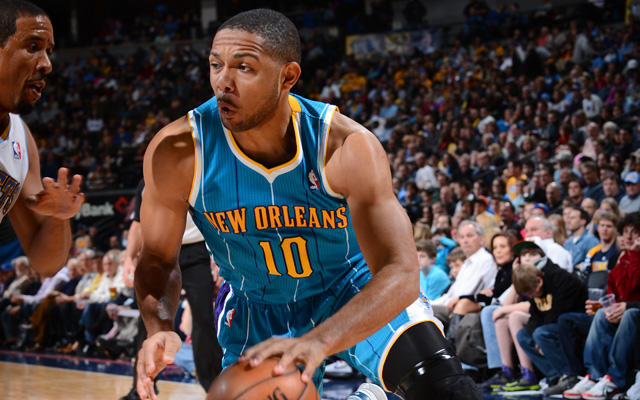 The Pelicans announced Friday morning that guard Eric Gordon underwent arthroscopic surgery to clean particles of scar tissue from his left ankle. The Pelicans' only timeline for Gordon is that he will resume basketball activities "later in the summer." 
Gordon, 24, missed 40 games this season with various knee issues, much of it spent because of "knee soreness" after tests showed no structural damage. Gordon signed a max offer sheet with the Phoenix Suns in restricted free agency last summer, and expressed dismay when the then-Hornets matched.
He and coach Monty Williams were involved in a screaming match on the sideline toward the end of the season. The Pelicans have admitted they will consider trading Gordon in the offseason. His coming off another surgery, even arthroscopic, is probably not going to do wonders for that endeavor. 
Gordon averaged 17 points and 3.3 assists on 14 shots per game and 40.2-percent shooting for New Orleans. 
(If you're wondering, no, saying "Pelicans" has not gotten any easier and is still insanely weird.)
Show Comments
Hide Comments
Surgery is to "repair core muscle-related injuries"

Somehow, the Celtics have become a significantly better defensive team with Thomas on the...

Will Iggy stay with Golden State? Does anyone have any idea what to do with Derrick Rose?
Hoiberg was asked about Isaiah Thomas possibly carrying the ball during Game 5

Celtics point guard does not need anyone to hype up his defense

The Bulls had it, they had it ... and ... it's gone