Even Lionel Hollins agrees, that was a Grit-and-Grind performance
Lionel Hollins isn't sure what that Grit and Grind slogan means. But the Grizzlies' coach saw his team put it in action on Monday night to beat Oklahoma City 103-97 in overtime to build a 3-1 lead in their second-round playoff series.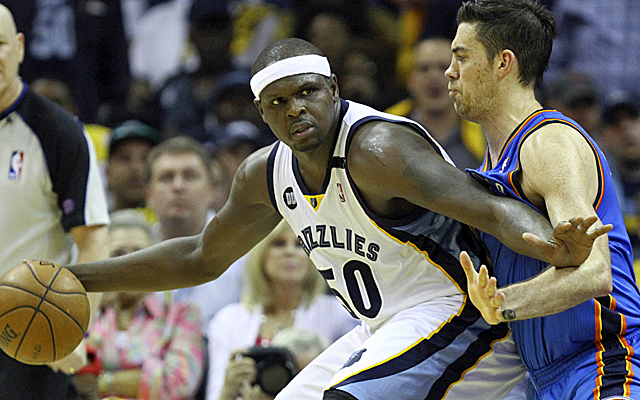 MEMPHIS, Tenn. -- Lionel Hollins doesn't really do narratives or cliches or even agreeable statements, long as I'm telling the truth. In fact, sometimes, it's like the Grizzlies coach is just disagreeing to disagree, just being difficult to be difficult, which is among the reasons he takes far more criticism in this city than any man from a small market with three straight postseason appearances ought to take.
More on Thunder-Grizzlies
Related links
And yet little of that was present late Monday.
Hollins watched his team win 103-97 in overtime here at FedExForum to take a 3-1 lead over Oklahoma City in this best-of-seven series. Afterward, he willfully (and joyfully) embraced the franchise's unofficial (but most popular, by far) mantra.
"We scratch and we claw," Hollins said. "As they say, Grit-and-Grind."
And then, seconds later, Hollins added ...
"I don't even know what the heck that means."
(Cue laughter)
Honestly, I'm not sure anybody knows what the heck that means. It's just a phrase that Tony Allen invented a few years back after a similar gritty and grindy win over Oklahoma City, and it stuck. Now the slogan is printed on towels, and 18,119 fans wave those towels each game. It's quite a phenomenon, one mostly created organically.
But what exactly does it mean?
I can't tell you other than to quote Potter Stewart: "I know it when I see it."
And I saw it on this night.
Hollins did, too.
"We just compete," Hollins said. "We're not the most-talented team in the playoffs. ... But we go out and compete and do whatever we can do to get the win."
This time, getting the win took a truly remarkable performance that featured Memphis overcoming a large deficit that seemed like it might be too large for an offensively challenged team playing against one led by Kevin Durant, especially when Durant buried a 3-pointer with 4:26 left in the second quarter to push Oklahoma City's lead to 46-29. The Thunder were cooking. The Grizzlies were getting cooked. All indications were that they'd fly to Oklahoma City tied 2-2 and suddenly be in a three-game series without home-court advantage. A great opportunity squandered. Against a team without its point guard.
"They were getting whatever they wanted," said Memphis point guard Mike Conley. "They were getting too many good, open looks, and they were just outworking us. They were making shots. But we knew if we came out in the second half and just tried to be aggressive defensively, try to get to the ballhandler a little bit more and create some turnovers, we could have a chance to win."
So, that's precisely what the Grizzlies did.
They didn't try to erase the big deficit quickly, look for that forever elusive 17-point play. They just turned up the pressure defensively, finally started guarding and chipped away, slowly and deliberately. Memphis was down 12 with a little more than eight minutes to play in the third quarter, down five with a little more than three minutes to play in the third quarter, and tied 76-76 at the start of the fourth.
At which point, Hollins dared anybody other than Durant to carry Oklahoma City.
He mostly used Allen on the three-time NBA scoring champion.
Conley and Marc Gasol helped Allen in spots.
So there were three members of the NBA All-Defensive Teams announced Monday focused on stopping one guy, and that's why that one guy, great as he is, was essentially stopped. Durant missed six of eight shots in the fourth quarter and all five shots that he took in overtime. Add it up, he was 2-of-13 in the final 17 minutes of action.
"I am giving everything I've got to my team," Durant said.
Meantime, Allen got a huge steal in a one-possession game with 21.9 seconds remaining in overtime that led to a Gasol free throw that prevented Oklahoma City from having a chance to tie things down the stretch. The final buzzer sounded after Durant's final shot missed and with the ball in Gasol's hands. Then an elated crowd broke into a "Whoop That Trick" chant -- you know, the chant from the song made famous by Hustle & Flow, the feature film written and directed by Memphian Craig Brewer -- that has become popular this postseason, even among management.
The whole scene was so Memphis.
The scratching. The clawing. The Grit-and-Grinding.
Clutch plays on defense.
Big performances from the bigs.
Another win.
So now the Grizzlies are merely one victory away from the first Western Conference finals in franchise history, a victory that must either come Wednesday in Game 5 at Oklahoma City. Or Friday in Game 6 in Memphis. Or Sunday in Game 7 in Oklahoma City, if it comes to that. But nobody in the Grizzlies' locker room talked after this game as if they have any plans on letting it come to that. They might not win pretty. They might not win convincingly. But, somehow, they just always seem to win -- proof being that they're 7-1 in their past eight playoff games, 19-1 at FedExForum since Feb. 8.
"Grit-and-Grind," Allen said in his postgame interview. "You know the motto."
At this point, I think, pretty much everybody does.
Even the sometimes-reluctant head coach.
Show Comments
Hide Comments
Our Latest Stories
A roundup of the latest talk as the trade deadline approaches

Both sides could benefit from shifting disappointing young players

This is far from the first time a scenario like this has come up
It's a great start for the Magic-Pelinka regime

David Aldridge says the Bulls want Crowder in return for Butler, and Boston doesn't want to...