Eye on Basketball Podcast: Talking Nets with Tim Bontemps
Zach Harper and Tim Bontemps discuss the Brooklyn Nets' resurgence this season, the Jason Collins signing, and what they do before they clear space in 2016.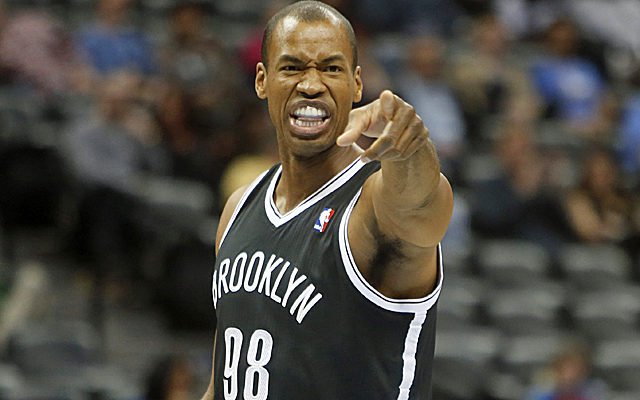 Tim Bontemps of the New York Post joins me today to discuss the Brooklyn Nets, who have had a roller coaster of a season. After an abysmal start to the season that left their final price tag of roughly $200 million as a punchline, the Nets have actually turned things around since January started. How has Jason Kidd managed to go from a drink-spilling laughing stock to a competent coach who has the ears of his players? How has the team managed to get through tough stretches and blowout losses to find themselves in decent playoff positioning?
The Nets are built without a salary limit from Mikhail Prokhorov. How does that affect how we evaluate the job Billy King has done in constructing this team? Has he been good in the way he's molded this roster, even if he's missed on a few things? Is it fair to judge them when they're missing Brook Lopez for the season? Do they have the space and the caché to put themselves in position in 2016 to go get the big free agents?
We discuss all of this, plus the Jason Collins signing, where Deron Williams can go from here, and travel debacles.
You can follow Tim Bontemps on Twitter at @TimBontemps.
Have questions for the podcast? Send them to zach.harper@cbsinteractive.com, or ask them on Twitter with the hashtag #EOBPod, and we'll answer them on the show.
You can download the episode here. You can subscribe to us on iTunes, and you should like us on Facebook. Follow Eye on Basketball on Twitter here.
Show Comments
Hide Comments
Will Iggy stay with Golden State? Does anyone have any idea what to do with Derrick Rose?

Hoiberg was asked about Isaiah Thomas possibly carrying the ball during Game 5

Celtics point guard does not need anyone to hype up his defense
The Bulls had it, they had it ... and ... it's gone

The Bulls found they were without hot water following their Game 5 loss

Wall finished with 20 points and 14 assists in win over the Hawks