Eye on Basketball's Elite 100: No. 50 through No. 26
CBSSports.com's NBA writers rank the top 100 players in the NBA. This round features Rudy Gay, Josh Smith, John Wall, and four Brooklyn Nets.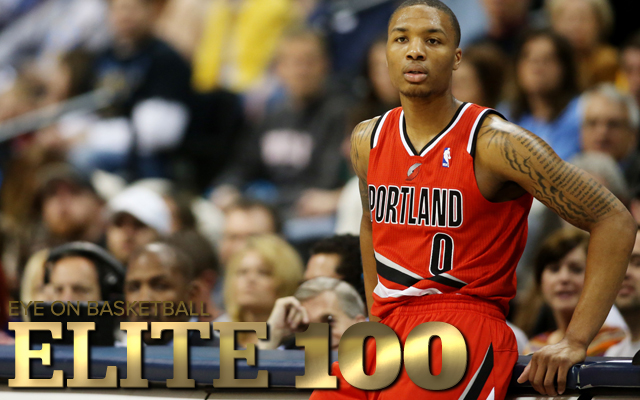 Last year's Rookie of the Year now finds himself among the best 50 players in the NBA.
(USATSI)
EYE ON BASKETBALL ELITE 100: 100-51 | 50-26 | 25-11 | 10-6 | 5-1
Each year we rank the Elite 100 players in the NBA. Our crew of three, who watch every NBA team on a regular basis all season, evaluated the players. Past performance, recent production, injury, projected improvement, character issues, decision making, basketball IQ, advanced metrics, team fit -- everything. And now we present our 2013 edition.
On Monday, we unveiled the players that fell in the 100-51 range on our rankings. Today, we present the guys that make up 50-26.
There is no science to this, nor a metric that trumps all others. We have as much confidence in these rankings as you can have, and we're still arguing about them even as we post them. That's what makes this fun. And that's all it is, fun.
You can win a title with a group of guys who aren't in the top 20 on our list. This isn't about whether or not these guys can win. Basketball relies on team chemistry, individual effort and communication. This seeks to establish the best of the best.
The ratings are prepared by the three writers for Eye on Basketball: Royce Young, Zach Harper and Matt Moore. The rankings are averaged.
Check out who we deemed as Top 50 players in this league:

Our rankings were all over the board with Gay, and it's largely due to an inconsistent view on where his game actually is. One of the voters had Gay as a top 30 player, one of the voters had him as a top 50 player, and the other had Rudy as a top 75 player. Becoming a better jump shooter or being a more selective shot taker could catapult him back up the ranks for next season.

West is neither fast nor quick. He's a big, hulking power forward that has overcome an ACL tear in the past two years. He happens to play in an era when a shift to uber-athletic, quick-paced players that are taking over the league. And yet, he's managed to remain a top 50 player because he can dominate for stretches and is a part of the best defense in the league. He's pretty impressive.

Lillard was electrifying as a rookie, showing an incredible poise and feel for the game that immediately made him the future of the Portland Trail Blazers . But after that initial wave of excitement, he'll now enter the part of his career in which efficiency will matter more, opponents will have a scouting report on him, and wins will be expected. Should be fun to see how he responds.

I'm not sure anybody would be excited if their team acquired Conley to run the show, but within a month of it happening, you'd be sold on his strengths. His stats are solid but won't blow you away. Factor in the fact that he's one of the better defensive point guards in the league and a climb to a top 50 player seems fitting.

Two writers are sold on Cousins being a top 40 player and the other one has him just outside of the top 60. The reason for the disconnect with Cousins and a lot of basketball fans outside of Sacramento is mostly his attitude. His defense doesn't help much either. However, the talent is there for him to become a dominant post player. He just has to want it.
As a rookie, Monroe was a very intriguing big man with exceptional passing skills, a great rebounding motor, and the kind of scoring efficiency that drove the stats guys wild (in a good way). But with that kind of early potential comes more responsibility. As he's become more of a focal point in the Detroit Pistons  organization, Monroe's scoring efficiency has dropped. Becoming a plus defender could shoot him up the ranks though.

This will sound a little crazy, but can you imagine if Jefferson's presence drags the Charlotte Hornets out of the cellar? His impressive individual stats would look herculean in comparison to other big men because he'd have the Bobcats competing like they have only once before. Maybe that's too much pressure to put on Big Al, but that's where free agency took him.
For all of the talk about Lee being overpaid and a saloon door on defense, the guy can flat-out score and rebound the ball. He was All-NBA third team last season and is still one of the better power forwards in the league. Yes, he's a terrible defender but he still brings a lot to the table.

The big leap in play for Jrue Holiday resulted in a big leap in his Elite 100 ranking. He jumped up nearly 30 spots because the majority of his play across the board was its typically solid self while seeing a big boost in his ability to distribute. He jumped from a 21.6 percent assist rate to 36.5 percent. Not to mention, he's a good defender at the point guard position.

Too much of the conversation surrounding Ibaka ends up being whether or not he's an elite defender. He will bite on pump fakes often, but he's still often in help position, deterring offensive players from bringing it to the rim. The next step in his game isn't necessary at the offensive end, as much as we need to see him become a really good rebounder.

Where do you think Leonard is going to peak during his career in ranking projects like this one? He's already jumped from 72 to 40 going into his second year and it feels like he will still continue to get a lot better. Can he break the top 20? It doesn't seem insane, which shows you just how effective he is on both ends of the court. He could end up being the ultimate role player.

Public opinion on Smith may finally be swinging the other way. He's been a detriment on offense with his horrendous true shooting percentage (factoring in field goal percentage, 3-point percentage, and free throw percentage) the past two seasons. The defense is still unreal, but this change of scenery to Detroit has to change how he approaches the offensive end of the court. (Hint: Attack the basket)

Pierce did a tremendous job of helping keep the Boston Celtics afloat when Rajon Rondo went down with his injury. However, the consistency just can't be there during the course of an 82-game schedule, plus playoffs. Going to Brooklyn and being a role player certainly will help him remain effective, but he'll need to dedicate more time to the defensive end of the floor.

The past couple of seasons, Johnson has been a really good NBA player. I mean he's been really good. But because he has a great agent and the Atlanta Hawks were loose with their PayPal account, we view him much differently. If Johnson were paid $15 million per year right now, we feel like he'd be a fan favorite. 

The growth Lawson has shown during his short pro career has been remarkable. He's probably a lock for one of the top 10 point guards in the league and you can make the argument he's Denver's best player. You just have to feel a little bad for him that he committed to the contract extension and then the organization blew up the leadership. That's not how you build trust with a player.

Chandler has led the league in true shooting percentage for three straight seasons and averaged a double-double in 66 games last year. So why the significant drop in rankings from last year to this year? He's the leader on the New York Knicks defense and that defense with him on the court went from giving up 98.1 points per 100 possessions in 2011-12 to 103.7 points per 100 possessions in 2012-13. Whether it's fair to blame him for the struggles of his teammates on defense, that's his realm.

Millsap hurdling Josh Smith in these rankings may surprise some people, but he is the better player. The upgrade at PF for the Hawks should give them a boost and allow Al Horford to shine a bit more. As for Millsap, a jump in rebounding this year without Al Jefferson , Derrick Favors , and Enes Kanter sucking up all the boards could cement his ranking for a lot of fans.

It's amazing what one injury-shortened season can do for a reputation like Wall's. Prior to his third season, Wall was already being labeled a bust, despite having a very solid first two seasons. When the Washington Wizards struggled coming out of the gate last season, it was Wall who salvaged their campaign by making them competitive. If he can take them to the playoffs this season, people finally will recognize how good he's been.

Lopez needed to do three things following a foot injury that kept him out nearly an entire season: Stay healthy, become a better rebounder and become a better defender. He did two of those last season and with the rebounders on his team, he may not need to do the third. He's become one of the league's best centers.

Huge drop for KG in our rankings -- mostly because it's just hard to see him as anything other than a really good role player. With the star depth in Brooklyn (four of the past eight players on this list), he may not need to do as much and can save his legs for the postseason.

Deng is going into a contract year and finally will have his running mate, Derrick Rose , by his side. Much like Conley at the point guard position, Deng is probably one of those guys who wouldn't necessarily excite the masses if he joined a new team, but within a month, they would be singing his praises and discussing All-Star Game status for a player who has become so effective on both ends of the floor.

Did he drop because of his injury history? Or did he drop because the Los Angeles Lakers nudged him out of the offensive game plan while trying to woo Dwight Howard into staying in Los Angeles? Or was it both? Gasol is still as talented as any big man in the league, but we don't know if his body can hold up. And now, he'll be playing next to Chris Kaman instead of Howard or Andrew Bynum .

Only 15 times in NBA history (since they started recording blocks) has a player averaged at least 11 points, 11 rebounds, 4 assists, and 2 blocks in a season. Kareem Abdul-Jabbar did it five times, Tim Duncan and Kevin Garnett each did it once, Sam Lacey and Bob McAdoo did it once, Bob Lanier and Bill Walton did it twice, and Chris Webber also did it once. Noah is that 15th time it's been done.

Absolutely zero climb or fall from Iguodala on this year's rankings in comparison to last year, and yet it feels like he's a bit more appreciated. He helped turn the Denver Nuggets into a good defensive team when he joined and his old team fell apart on defense without his presence. Now he just needs to help out Stephen Curry and raise his free throw percentage to possibly climb up next year's rankings.

Z-Bo made his second All-Star Game last season as one of the few players in the league to average a double-double. Even with the climb up the rankings a few slots, it feels like he can do so much more. A 20-10 season from him isn't out of the question as long as he's healthy, but he probably needs to get back around 50 percent from the field to accomplish that.
Show Comments
Hide Comments
The Blazers had no answer for the Warriors once they got going in Game 3

Memphis can still grind out these victories

The Warriors erased Portland's lead in the blink of an eye
Memphis' franchise center made franchise history

How to watch the first-round series between San Antonio and Memphis

The Thunder and Celtics each picked up their first wins Friday night