For some reason, Knicks haven't given Melo an MRI on ailing shoulder
The Knicks haven't done an MRI on Carmelo Anthony's injured right shoulder yet. Which is weird.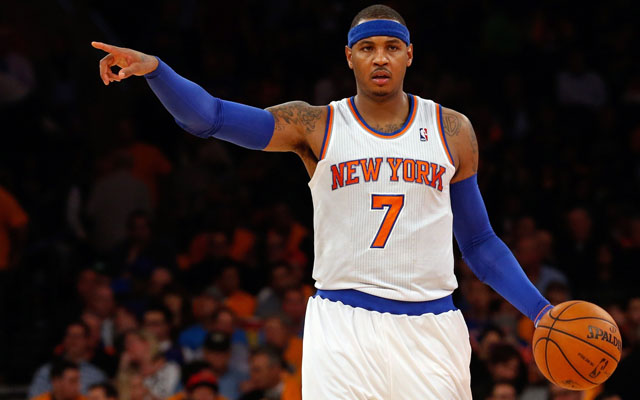 More NBA: Power Rankings | Expert Picks | Latest news, notes
Out of sight, out of mind? 
Carmelo Anthony has been dealing with what the team called at one point a "right shoulder sprain" for a number of days now. It's also been described as both a "dead arm" and a deep bruise."
Doesn't seem like anyone totally knows what's wrong with Anthony's shoulder. Why? Because he hasn't had an MRI on it yet. Via the Wall Street Journal:
If it seems like Anthony doesn't actually know what's wrong with his shoulder, well, the Knicks might not know, either. First, the organization called Anthony's injury a "strained right shoulder," and said X-ray results had come back negative. But the Knicks, who have been off since Sunday's loss in Miami, still haven't given Anthony a more-detailed MRI exam, which could highlight any ligament or tissue damage.
Anthony has remained adamant about playing through the injury, saying it doesn't matter what the tests say, he's not missing games. But at the same time, the Knicks' playoffs hopes are basically on life support, so you have to wonder if the team is chancing making the injury worse for the long-term. 
Via the WSJ, Anthony has shot just 3-15 on open shots the past two games, both of which ended in Knicks losses. In the two games, Anthony scored a total of just 23 points on 9-31 shooting. Something clearly isn't right. 
"Only Melo knows the severity of his pain," Mike Woodson told reporters. "If he tells me he's hurt, and that he can't play, it's my job to sit him. But I don't know that he would ever tell me that."
It's not a rule that the team has to announce an MRI, so it's possible the Knicks performed one on Anthony and just didn't say so. Either way, he's in obvious discomfort and battling through a difficult injury, probably for no reason. 
Show Comments
Hide Comments
Embiid hasn't played much due to injuiries, but the 76ers are sold on his potential

This appears to be a move that will give Dallas some cap flexibility

Russell Westbrook and/or James Harden won't feel alone in being snubbed
Here's how to watch the NBA Awards Show, a list of the nominees, and what awards are up for...

Milos Teodosic may be 30 but there are rumors he's heading to the NBA

Dirk Nowitzki had some fun with Harrison Barnes as he approaches 20 seasons in the NBA