Foye added to complete 3-team Andre Iguodala-to-Warriors deal
The Utah Jazz, Denver Nuggets, and Golden State Warriors are working on a sign-and-trade deal that would send Andre Iguodala to Golden State and Randy Foye to Denver.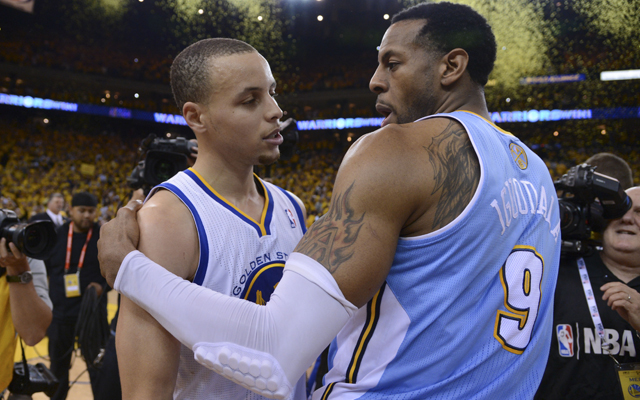 The Warriors want (and have agreed to a deal to sign) Andre Iguodala. The Jazz want the cap space afforded by a trade with Golden State. And the Nuggets want guard Randy Foye. So the three are talking about a deal to make all of these wishes come true, seamlessly. Ken Berger of CBSSports.com confirms a report from Yahoo Sports: 
The Nuggets briefly pursued Ellis, but are currently discussing a three-team sign-and-trade arrangement that would net them Randy Foye and a trade exception to plug the space left by Andre Iguodala, who would be signed and traded to Golden State, league sources confirmed on Monday.

via Sources: Kings, Monta Ellis discussing deal - CBSSports.com.
The deal is presumably separate from the deal which sent Andris Biedrins, Richard Jefferson, and two first round picks to Utah in exchange for the cap space to sign Iguodala. This just gives the Warriors, now desperate for some flexibility to provide themselves anything resembling a bench, the opportunity to upgrade the team. 
For the Nuggets, Foye at $3 million per year is good value. He shot 39.7 percent from the field last year, but 41 percent from three, and that's all they really need, a guard who can handle and shoot from the edge. The trade exception sounds nifty, until you recognize that hardly anyone has actually moved a trade exception after its acquisition in years. It's basically dead space, which Denver, in cost-cutting mode, is inevitably fine with. After Foye, and Hickson, who the Nuggets agreed to a deal with on Sunday, Denver will basically be up against the cap. It's a series of small moves for the Denver front office, who is still getting itself established, and who is dealing with the perception that their ownership is cheap and front office unstable after so many changes following a 57-win year. 
Utah just piles up another pick as they move towards their future. 
The deal works out best for Golden State if it goes through, giving them the full mid-level and the ability to replace Carl Landry and Jarrett Jack who they lost in free agency as they try for legit title-contender status. 
Show Comments
Hide Comments
Utah's veterans are helping Gordon Hayward and Rudy Gobert win when it matters

Houston advances, and San Antonio is set up to follow suit after its Game 5 win

This is fuel to the Westbrook haters' fire
How to watch the first-round series between L.A. and Utah

The playoffs are getting interesting

Harden didn't play great, no one could shoot, and the Rockets still rolled to a 4-1 series...