George questions Lance's LeBron critique; Pacers G sticks by words
Lance Stephenson's comments on LeBron James showing a sign of weakness aren't something the Pacers or Heat expect to negatively affect LeBron.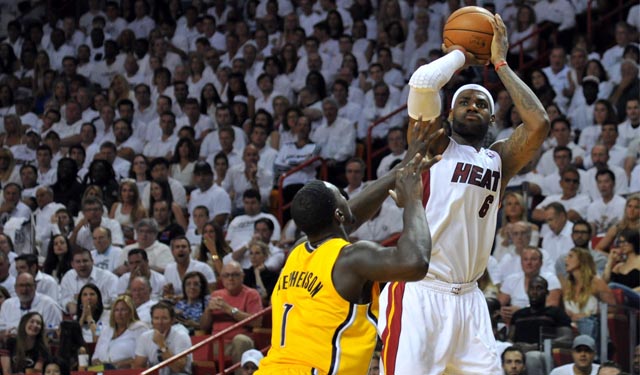 More postseason coverage: Playoff schedule, results | Latest news, notes
MIAMI -- Lance Stephenson's comments about getting in the head of LeBron James and possibly unearthing a sign of weakness in getting James to talk trash during Game 3 have been the type of pot stirring that Stephenson brings to the Indiana Pacers. But as his team tries to figure out how to take down the back-to-back championship Miami Heat, it's possible that this was a distraction not worth giving the Eastern Conference finals.
At shootaround Monday, both sides were asked copious amounts of questions on whether Stephenson's comments had any kind of lasting effect or brought extra motivation to the contentious series. For the most part both teams remained diplomatic on the issue, trying not to add fuel to the fire, but one thing was pretty apparent to both sides: LeBron James probably wasn't the guy you'd want or need to have that battle with if you're Stephenson. 
Paul on Lance: "He's doing it to the wrong guy. He's barking up the wrong tree. LeBron is the same way, he feeds off that kind of energy."

— Candace Buckner (@CandaceDBuckner) May 26, 2014
Stephenson himself didn't have any regrets about riling up the superstar.
"I don't mind it, I don't care how [LeBron] feels. I'm up for any challenge," Stephenson said, via ESPN. "I love it when people challenge me, I like to bring out the best in people. That's how I am, I have to get the win tonight. When I talk junk, it makes me happier in my job. I like the challenge, I like to force myself to do my job."
The results after the Game 3 trash talking went in favor of James and the Heat. Miami turned around a horrendous start with extra intensity led by LeBron and ended up winning the fourth quarter and the game fairly comfortably after a long, hard-fought night. It's something some Heat players have seen before and they're happy to side with the best player in the world in a situation like this.
<span style=Paul Pierce" data-canon="Paul Pierce" data-type="SPORTS_OBJECT_PLAYER" id="shortcode0"> did and he had 49," Norris Cole said after shootaround, "so it doesn't take much. LeBron knows when to turn it on like that, and when to -- I don't want to say be passive -- but be more of a facilitator. He has that great balance of when to be aggressive and when to facilitate.
"He doesn't take it as a one-on-one match-up. He understands it's the Pacers against the Heat, and we understand that too."
Cole's comments were in reference to Pierce and the Nets proclaiming the Brooklyn forward wanted to defend LeBron during their Game 3 victory over Miami. This contributed extra fuel to the fire in James when he tied his playoff career-high of 49 points in a Game 4 victory in the second round. Considering LeBron's ability to rack up points and take over games, some Heat players are probably hoping James uses this as extra motivation, if that's even necessary.
"Yeah, I disagree," Chris Bosh said. "I mean it's LeBron. He's the best player in the world. We don't get into talking or that stuff. We just play the game. If getting in his head is averaging 27 points then I hope he stays there."
When Stephenson drew the offensive foul on James early in the second quarter of Game 3, it immediately led to LeBron standing over the Pacers' guard before he got up and then following him down the floor and talking to him the entire time. He wouldn't let Stephenson walk in a straight line, causing him to change course multiple times and put his hands up in the air to show the officials he wasn't engaging in what James was saying.
That foul by James was the third turnover of the game for him and he only had four points on 2-of-5 shooting. After that, LeBron had 22 points on 7-of-9 shooting and seven assists for the rest of the game as he helped lead the comeback which gave the Heat a 2-1 series advantage. Will that carry over into Game 4 and have an effect on the way LeBron plays?
"None," Cole responded when asked if this might have an effect on the way James plays. "Might be worse for Lance, but I don't think it's going to affect [LeBron]. Winning is enough motivation for us. But sometimes LeBron goes into that gear where he has to prove a point and that's good for us too, when he's at that high level."
Shane Battier posited that perhaps giving LeBron a truth serum could draw out an honest answer on whether or not this would affect the way he plays. But nobody expects this to have a negative impact on the four-time MVP.
When asked if Battier had noticed any signs of weakness in LeBron James, the veteran responded with, "Not in the last decade."
Shaquille O'Neal certainly knows how to bring attention to himself

Warriors, who are not leaning on taxpayers for the arena, plan to pay back the fee after 30...

In a documentary short, Redick explains part of the reason he left the Clippers for the 76...
The Cavs are reportedly nearing a deal with Rose, but the Lakers will try to persuade him to...

The former NBA All-Star launched a successful second career overseas

Tom Thibodeau confirmed locking up Wiggins is the next step for Minnesota after a busy sum...