Glen Taylor on trading Kevin Love: 'Not our plan'
Minnesota Timberwolves owner Glen Taylor would rather not trade Kevin Love.
• 1 min read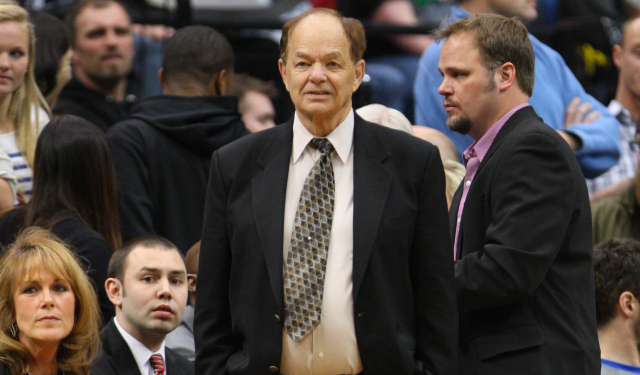 More Offseason Analysis: Coaching changes, news | Free Agency | Draft
Minnesota Timberwolves owner Glen Taylor has backed down from the stance that the team absolutely would not trade Kevin Love, but he is trying to downplay all the rumors surrounding his superstar, via the St. Paul Pioneer Press' Charley Walters:
Asked Monday if he would say he's not going to trade Love, Taylor said, "I should never say never because who knows what might come up? But that's not our plan.

"I'm not in a position where you would say absolutely I wouldn't do it, because what if something that I can't even speculate (on) happens? You'd say, 'You're nuts, Glen.' Maybe some team puts a value on him that's different than we suspect."

…

"At this point, we're not talking to any teams," Taylor said. "I haven't heard from Kevin or his agents or anything like that. We're assuming that Kevin will be here next season, and we're working with that scenario. This isn't the time for us to do anything but to prepare for next year.
Taylor said it's been "difficult" to deal with all of the speculation about Love's future. He added that Wolves president Flip Saunders is focused on the upcoming draft and finding a head coach to replace Rick Adelman.
Contrary to these comments, Yahoo Sports' Adrian Wojnarowski reported that Love's representatives are "pushing" Saunders to find an acceptable trade before free agency begins in July.
While it might be true that Minnesota would prefer not to trade Love, Taylor's initial shift to "not by the draft" seems more significant than anything he's said since. There's going to be damage control in any scenario like this one, and there's no bigger off-court story than Love right now. After Tuesday's lottery, new offers will be on the table, and regardless of what the Wolves are saying, they have to listen. 
The Wolves' newest star welcomes any and all interviews and expects to take the blame as the...

Donald Trump isn't known for his filter, and that was on full display when Dan Gilbert joined...

The Knicks failed to reach the playoffs in Thomas' first stint in New York as president in...
Will Toronto's current team president be the successor of Phil Jackson in New York?

Where are the top NBA free agents heading and who is still available?

Griffin suffered a toe injury that cut short his postseason, and apparently may keep him s...