Gordon Hawyard and Jazz fail to reach extension agreement
After failing to reach an agreement, Gordon Hayward will hit free agency next summer.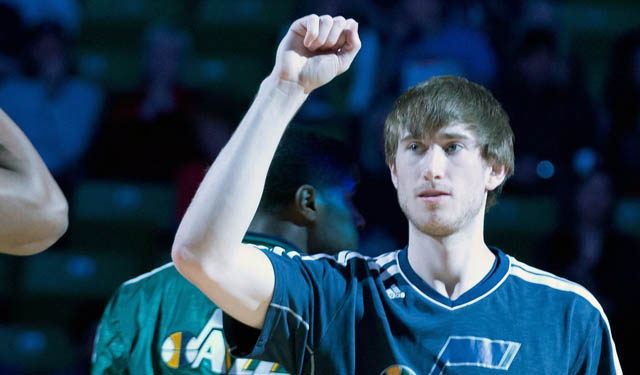 The deadline has passed and Gordon Hayward will now become a restricted free agent July 1. 
Hayward and the Jazz were engaged in deep discussions about an extension right up to the Oct. 31 deadline, but failed to reach an agreement. According to Yahoo Sports, the sides were millions apart, with Hayward seeking something in the four-year, $50 million range. 
Just recently, the Jazz extended forward Derrick Favors for four years, $49 million and were said to have intended to reach a similar deal with Hayward. 
Hayward will be an interesting player to watch in free agency next summer, especially since he's poised to have a big season as Utah's primary offensive player. He'll draw a lot of interest, and with teams around the league positioning for cap space because of the big names, he may get his desired offer anyway. It'll just be a question of if the Jazz are willing to match it. 
Even Floyd Mayweather weighs in on the war of words between the two stars

The three-team deal would have also shipped Kevin Love to Denver

Ball wasn't happy about a foul call, swore at a referee and took his team off the floor
Jared Sullinger wants back in the NBA; he knows his weight will play an important part

Cleveland is one of Rose's biggest suitors, and the Irving situation could lead to an even...

Five years later and Celtics fans continue to throw shade -- Allen later deleted the comme...