Grade the trade: Clippers make risky move for Lance Stephenson
Los Angeles is going to try to incorporate Lance Stephenson into its attack, giving up Matt Barnes and Spencer Hawes in the process.
• 3 min read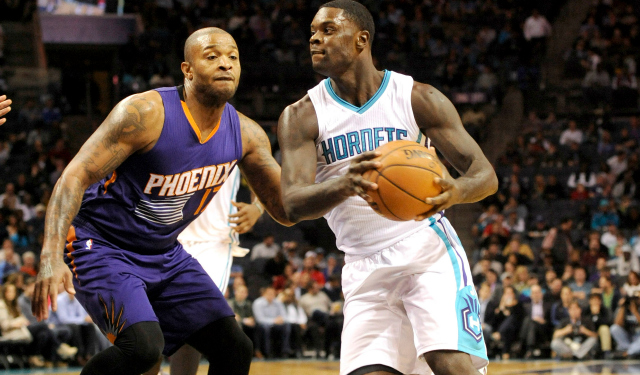 The Los Angeles Clippers and Charlotte Hornets completed a trade involving three rather interesting personalities, the teams announced on Monday. Matt Barnes and Spencer Hawes are heading to Charlotte, while Lance Stephenson is your newest Clipper. Let's grade this thing.
Clippers acquire Lance Stephenson
Let's get the bad stuff out of the way. Stephenson was a disaster with the Hornets, who were outscored by 7.5 points per 100 possessions while he was on the court. For reference, the Los Angeles Lakers were outscored by 7.2 points per 100 possessions all season. In Charlotte, Stephenson shot 37.6 percent from the field and 17.1 percent (18-for-105) from 3-point range. He never came close to finding his rhythm there, with trade rumors starting in December and DNP-CDs adding up as the regular season drew to a close. 
And there's more: Stephenson doesn't fit with the Clippers' roster as constructed. In Barnes, they just traded away their starting small forward, and they don't really have a backup. Their newest acquisition likely can play spot minutes at the 3, but it's a stretch to put the 6-foot-5 Stephenson in that position permanently. You have to wonder if Los Angeles might already know Jamal Crawford can be traded for a 3-and-D wing -- having him, Stephenson and Chris Paul (and maybe Austin Rivers , who will be a free agent) split ballhandling duties seems like asking for trouble. It's hard to properly assess this without knowing what is coming next -- the Clippers have months to try to balance things out, but their options are limited because of their salary-cap situation. 
Which brings us to the reason this happened. Clippers president and general manager Doc Rivers knows how tough it will be to improve this team, which lost to the Houston Rockets in the second round of the playoffs mainly because his stars were worn out by the end of it. Los Angeles needs someone to take pressure off of Paul, Blake Griffin and DeAndre Jordan (assuming Jordan re-signs this summer), and there couldn't have been anybody obtainable with more talent than Stephenson. 
Considering that he will make only $9 million next season (with a $9.4 million team option in 2016-17), Stephenson doesn't represent a huge risk on his own. Hawes didn't give the Clippers much of anything this year, and Barnes, who has only one year left on his contract, might not have had much of a future with the franchise anyway. This is a pretty big swing, though, because Los Angeles had a starting lineup that was almost impossible to stop in Paul, JJ Redick , Barnes, Griffin and Jordan.
There's no telling what Stephenson will do to team chemistry, but the rationale for making the move despite all this is understandable. Perhaps in the right environment, he can excel like he did with the Indiana Pacers in 2013-14. In large part, Rivers the executive is betting on Rivers the coach making this work.
Grade: C
Hornets acquire Spencer Hawes, Matt Barnes
This is mostly addition by subtraction. Charlotte could have had Stephenson return, then declined his option and let him become a free agent next summer. Instead, it decided to cut ties with the guard in order to add a stretch big and some cap space. The Hornets are expected to waive Barnes before July 1, paying him only $1 million of the $3.5 million he's owed, according to Yahoo Sports' Adrian Wojnarowski. 
Hawes makes some sense for Charlotte because the team is desperate for outside shooting. Yes, this is where Clippers fans are supposed to yell about him making only 31.5 percent of his 3-point shots this year, but that feels like an abberation. At 27 years old, he shouldn't be finished as a productive player.
The Hornets would really hate to be stuck with last year's version of Hawes, though. He is set to make $5.5 million next year and $5.8 million the year after, with a $6 million player option for 2017-18. Those numbers aren't enormous, especially with the salary cap rising next summer, but, again, the alternative was simply letting Stephenson walk a year from now.
The other potential concern is that Charlotte might already have its stretch 4 of the future. Noah Vonleh didn't play much last season, but the No. 9 pick of the 2014 NBA Draft has great potential as an inside-outside threat. Some might say Vonleh could learn from Hawes; others might say the 19-year-old will just find it even more difficult to get playing time. Al Jefferson and Cody Zeller will surely play big minutes in the frontcourt, and soon-to-be restricted free agent Bismack Biyombo could be back as well.
This trade is pretty depressing from the Hornets' point of view when you think about the mood around the team less than a year ago. With Stephenson in the fold, they seemed ready to build on head coach Steve Clifford's strong first season with the franchise. That obviously didn't happen, but getting rid of him might be the first step to getting back on track.
Grade: C+
Show Comments
Hide Comments
Thunder fans used the term 'cupcake' in reference to Durant after he left OKC in free agen...

There appeared to be some wishful thinking on the part of Charlotte general manager Rich C...

Thompson is one of the best shooters in the league, but it appears dunking isn't his speci...
Cuban was willing to part ways with employees who leaked ahead of the official announcemen...

Draymond wasn't mad about the move, though. He was mad about the way he heard about it

All-Star forward was sent from the Bulls to the Timberwolves on draft night