Grade the Trade: Pacers swap Granger for Sixers' Turner, Allen
The Indiana Pacers have traded Danny Granger to the Philadelphia 76ers for Evan Turner and Lavoy Allen. We grade the deal.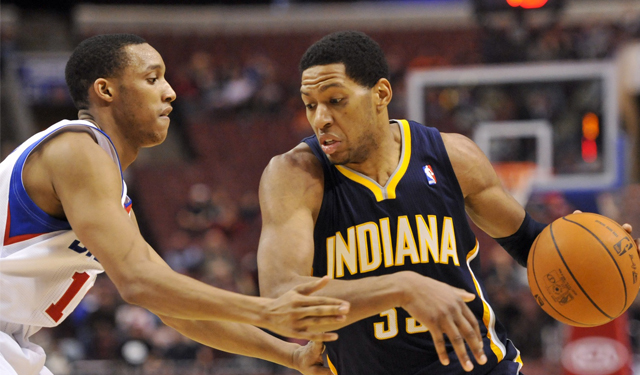 With the Indiana Pacers and Philadelphia 76ers agreeing to a trade that will swap Danny Granger for Evan Turner and Lavoy Allen, we grade the trade to see how both teams make out in the deal.
Philadelphia 76ers acquire Danny Granger and future second round pick
The Philadelphia 76ers seemed intent on moving their top players (Evan Turner, Spencer Hawes, and Thaddeus Young) for nothing less than cap flexibility, young assets, and draft picks. The draft picks would ideally be first-rounders in this scenario but the new collective bargaining agreement has made general managers quite stingy with upcoming picks. Even second-round selections are being valued as an asset that must come with solid pick protection if it's going to be moved. 
The two second-round picks the Sixers acquired by moving Spencer Hawes to the Cleveland Cavaliers are in the 2014 draft, moving their total number of 2014 second-round picks to nine after today's wheeling and dealing. They managed to get a future second-rounder in this particular trade involving Turner and Allen for Granger, as well. They also removed themselves from the Evan Turner restricted free agency conversation and get to avoid the idea of an $8.7 million qualifying offer this coming offseason.
They've taken on roughly $5.3 million in extra salary with this move after shedding roughly $2.4 million in the Hawes deal. And what do they have to show for it? Nothing really, except a late second round pick from Indiana at some point in the future. Expect them to buy out Granger before the March 1 deadline and he'll be allowed to go sign with a contender and hopefully chase a ring before he hits unrestricted free agency this summer.
The Sixers really didn't do much here, but maybe that's OK considering their place in the rebuilding process and the market that wasn't really there for Turner. 
Grade: C-
Indiana Pacers acquire Evan Turner and Lavoy Allen
This is a very intriguing move by the Pacers. Replacing Granger in the rotation with Turner and picking up an extra six fouls to use at the rim in the playoffs in Allen could possibly be the added depth they need to put them above the Miami Heat when May and June come around. And that's what every move for the Pacers ends up being: Getting ahead of the Heat once we're in the playoffs. 
Ideally, the Pacers would have picked up another shooter to space the floor and improve their subpar 3-point shooting. The Pacers are shooting 35.0 percent from 3-point range this season, which is good for 21st in the NBA. Turner's 28.8 percent from downtown this season definitely isn't going to improve that but he does give them another wing with size who can handle the ball and make plays for his teammates. If Turner's dribble penetration can lead to the defense sinking in and him kicking out to shooters, his bad outside shooting might not matter.
Replacing Granger, who was giving you relatively nothing with 22.5 minutes per night, with Turner is a no-brainer. Sure, Turner's stats are somewhat inflated by the breakneck pace of how the Sixers play but he's still a very solid all-around player that can come in and contribute right away to a Pacers team that needed Granger to provide that wing depth this season.
This also gives the Pacers some nice flexibility with how they approach free agency this summer. Granger was likely to walk and give them nothing in return. By getting Turner, they now don't have to feel pressured to give Lance Stephenson a big contract this summer. Stephenson's value has had a meteoric rise the past two seasons and it may cause the Pacers to have a tough question to answer when it comes to paying him. 
With Turner, a similar offensive player to Stephenson's style, now in the fold, the Pacers could opt to not bid against other teams if the Stephenson sweepstakes get out of control and focus on keeping Turner via restricted free agency. The Pacers won't be able to keep both players, so they will have to choose between the two, but it's also unlikely they lose them both.
Grade: B+
Show Comments
Hide Comments
Durant missed Games 2 and 3 with a calf strain

The Atlanta fanbase appears ready to go for Game 4

Ibaka struggled during Games 3 and 4 in Milwaukee
For the first time, the NBA will be holding an awards show after the season

The Pacers president was there to deliver Indiana's bid for the 2021 All-Star Game

Is Paul George in a Laker uniform just a formality at this point?