Grade the Trade: Warriors acquire Steve Blake from the Lakers
The Golden State Warriors acquired point guard Steve Blake from the Los Angeles Lakers for Kent Bazemore and MarShon Brooks. We grade the trade.
The Golden State Warriors added some help to their bench Wednesday by trading two reserves to the Los Angeles Lakers for backup point guard Steve Blake. How much does it help them? We grade the trade for both sides.
Los Angeles Lakers acquire Kent Bazemore and MarShon Brooks
The Los Angeles Lakers didn't really need Steve Blake right now. On a team that is fighting for its playoff life and trying to make sure it keeps a steady hand on the floor at all times, Blake is a really valuable bench player. For an 18-36 team that is missing its Hall of Fame shooting guard and looking toward the NBA lottery, he's a starting guard for no reason. The Lakers didn't need him; they needed to keep cutting salary, and that's exactly what they did with this deal. 
By moving Blake to the Warriors for Bazemore and Brooks, the Lakers shave a little over $2 million off their salary commitments this season. That means they start getting closer and closer back toward the luxury tax they've been over for years. The luxury tax in the NBA this season is set at $71.7 million and after making this trade, the Lakers are down to just over $77 million this season. They're expected to unload big man Jordan Hill before the trade deadline without having to take back any salary. If that's the case, the Lakers would then be down to $73.5 million, which is under the luxury tax apron.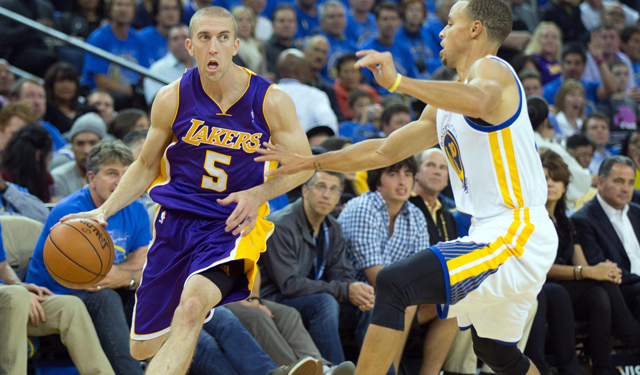 This means lesser penalties and payments if they pull off the Hill aspect of this deal and save some much needed money on a team going nowhere but the lottery. Bazemore and Brooks could get a crash course in how to play in Mike D'Antoni's system while boosting their confidence. That's just what D'Antoni seems to do with lesser role players; he finds ways to make the more valuable. 
But make no mistake about it; the big part of this trade is getting the Lakers' books in order.
Grade: B-
Golden State Warriors acquire Steve Blake
Speaking of luxury tax implications, the Warriors have been pretty close to the tax throughout this season and have been wary of crossing over that threshold. This move adds a much needed bench weapon for the Warriors while still being able to avoid the luxury tax. They're somewhere around $400,000 under the luxury tax after this move and have freed up a roster spot just in case they need to make a move tomorrow or add a player later in this season.
Blake has battled injuries the past three seasons -- missing 77 total games -- but has been pretty good when he does get on the court. In his four seasons with the Lakers, he shot 38.3 percent from 3-point range and had an assist-to-turnover ratio over nearly 2.5 to 1. Under D'Antoni as his coach, Blake's 3-point shooting has been even deadlier. He shot 42.1 percent in 45 games last season and is shooting 39.7 percent this season.
The Warriors' bench has been putrid on offense this season. They're second to last in bench points per game in the NBA, just 1.2 points ahead of the Blazers. They also have the worst shooting bench in the NBA (39.1 percent) and the fourth worst 3-point shooting bench in the NBA (31.5 percent). They need a real backup point guard, so they can move recently acquired Jordan Crawford back to his more comfortable shooting guard position. This would then allow the Warriors to lessen the minutes they're giving Stephen Curry, allowing him to get proper rest before the playoffs.
As long as Blake can stay healthy, this is a no-brainer for the Warriors. They'll miss the bench celebrations of Bazemore and the chemistry he brought to the guys on the sideline, but that's not exactly a problem a team actually has after making a trade.
Grade: A
Show Comments
Hide Comments
The final Game 7 of the first round will tip off at 3:30 p.m. ET

Game 1 of the second-round series between the Celtics and Wizards tips off at 1 p.m. ET on...

The two best point guards in the East go at it in a series sure to be filled with drama.
Breaking down key matchups as the second season reaches the conference semifinal series

The second round of the 2017 NBA Playoffs tips off Sunday at 1 p.m. ET, with Game 1 of Cel...

The Spurs have homecourt advantage, and will host Game 1 Monday night at 9:30 p.m. ET