Gregg Popovich called Doc Rivers about dealing with Game 7 loss
Spurs coach Gregg Popovich called Doc Rivers to discuss dealing with losing a Game 7 in the NBA Finals.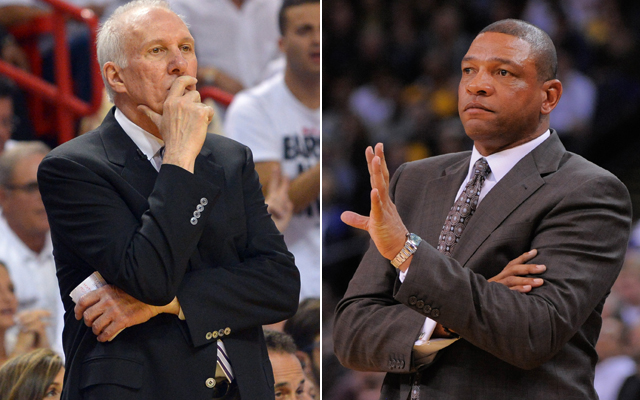 Clippers coach Doc Rivers (OK, that was weird to type) told the Boston Globe that Spurs coach Gregg Popovich called him after the Spurs' Game 7 loss in the NBA Finals to the Miami Heat and asked for advice on dealing with that kind of a loss. 
Doc Rivers said Gregg Popovich called and asked him "Do you ever get over Game 7 losses?" Doc's response? "Nope" #clippers #celtics #spurs

— gary washburn (@GwashNBAGlobe) July 17, 2013
So, that's pretty awesome for multiple reasons. You've got Popovich, who is supposed to be this all-knowing seer, seeking out the counsel of another great coach in this league, and you have Rivers telling him that the pain never goes away. 
The Celtics lost an ugly Game 7 in an ugly series to the Lakers in 2010 after Kendrick Perkins went down with an ACL tear. The Spurs lost Game 7 in Miami, but that was after the far-more-brutal Game 6 loss that Spurs guard Manu Ginobili later admitted he never really got over. 
Of course, if we're talking Game 7, you have to remember this as well. 
Even with four championships, Popovich will never forget that game. It was an incredible series, a shame that someone had to lose. But the Spurs did, and it will hang with him despite Popovich's considerable and admirable perspective on sports in the greater picture of life. 
Shaquille O'Neal certainly knows how to bring attention to himself

Warriors, who are not leaning on taxpayers for the arena, plan to pay back the fee after 30...

In a documentary short, Redick explains part of the reason he left the Clippers for the 76...
The Cavs are reportedly nearing a deal with Rose, but the Lakers will try to persuade him to...

The former NBA All-Star launched a successful second career overseas

Tom Thibodeau confirmed locking up Wiggins is the next step for Minnesota after a busy sum...