Grizzlies coach Lionel Hollins laments trading away veteran Gay
Memphis Grizzlies coach Lionel Hollins is upset about the Rudy Gay trade.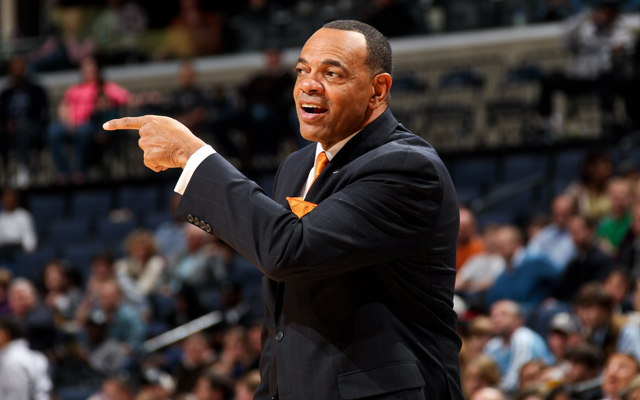 Lionel Hollins doesn't seem happy lately.
(Getty Images)
It's safe to say Memphis Grizzlies coach Lionel Hollins and the new front office of the team don't exactly see eye to eye right now.
After Robert Pera purchased the team from Michael Heisley, CEO and managing partner Jason Levien decided to shake up the front office. Former ESPN columnist John Hollinger and former agent and Denver Nuggets employee Stu Lash were added as the team moved forward. 
Since that shake-up, Hollins has ardently spoken out against using advanced statistics in sports, he spoke out against the idea of trading away Rudy Gay, and now has spoken out against the market limitations of his team. From the Oklahoman:
"When you have champagne taste, you can't be on a beer budget. It's a small market and I understand the economics of being in a small market. I've been with the Grizzlies for 11 years in Memphis. Rudy Gay has been a big part of our success. I've known him as a kid as a rookie coming in. He's a big part of my success as a coach here and I feel I was a big part of his success and I wish him the best as he moves forward into the second chapter of his career."
The thing about Hollins' champagne taste and market economics comment is that I'm not sure it belongs in today's NBA. 
Hollins is an old-school guy. He's a very tough coach who identifies with the "grit and grind" mentality of this Memphis team. He's been an excellent coach since taking over the sideline of this team, but he's definitely not a guy who seems to have changed with the times. In today's NBA, advanced stats and scouting matter. We've seen that with the way numerous teams are run, most famously with the Dallas Mavericks having a "stats guy" (Roland Beech) on their staff who helped the 2011 NBA champs figure out which five-man units worked the best. 
It doesn't mean the NBA has to be run by advanced statistics or that they have to be heavily involved. It just means there is more information to be mined, far past the stuff available to the commoners like you and me. And many teams are interested in finding the proper balance between deeper statistical analysis and more traditional scouting.
I bring this up because the old-school nature of Hollins seems to have entered here with his comments about the economics of small market teams. Yes, the Grizzlies are a small market team and yes, this can be viewed as a cost-cutting move. But really, it wasn't so much a salary dump as it is trying to survive in the era of the new collective bargaining agreement. 
With owners like the Chicago Bulls' Jerry Reinsdorf, avoiding the luxury tax was usually about money. Why cut the check when you can be the one receiving the check? Owners avoided the luxury tax because they were trying to make as much money as possible, as business owners tend to try to do. Other owners were more concerned about winning on the court than winning in the books, so they had no issue surpassing the tax line.
In today's NBA, avoiding the luxury tax is more strategic than economical. What Pera, Levien, Hollinger, Lash and the rest of the front office did was allow themselves to remain flexible within the construct of shaping this roster. Did they disrupt a potential title contender? Unfortunately, we can only speculate with that thought now.
What they did was avoid entering the realm of becoming a luxury tax spender and potentially a repeat luxury tax offender. There are incremental increases in the luxury tax payment for every $5 million threshold that is surpassed past the luxury tax line. When you're a repeat offender, your midlevel exception gets lowered, you're not allowed to bring back as much salary in a trade as nontax paying teams and your biannual exception is taken away.
Starting in the 2013-14 season, any team $4 million above the luxury tax will no longer be capable of acquiring a player in a sign-and-trade deal if it has used the taxpayer midlevel exception. They also can't acquire a player in a sign-and-trade that puts them above that $4 million luxury tax "apron."
This isn't about having champagne tastes and a beer budget anymore; it's about being able to order anything but a soda and bitters from the drink menu. In the NBA times have changed with the economics and it has little to do with how cheap a team wants to be. It's about maintaining roster flexibility. 
It doesn't mean the Grizzlies have done everything correctly here. That remains to be seen. We don't know if their three-for-one dump to Cleveland and their Rudy Gay removal will end up compromising the ceiling of this team. What we do know is management is playing by the rules of the current CBA. It's not about small market vs. big market right now. It's about taxpayer limitations against non-taxpayer freedoms.
The trade can upset Hollins. He wanted to keep his core and he wanted to keep Gay on the team. But knowing the landscape of how the NBA has changed is essential to understanding the "economical" aspects of this deal.
(H/T - Straight Outta Vancouver)
Don't even think about it -- LeBron's reportedly not going anywhere

The point guard's unhappiness reportedly helped lead to his eventual trade request

Even Floyd Mayweather weighs in on the war of words between the two stars
The three-team deal would have also shipped Kevin Love to Denver

Ball wasn't happy about a foul call, swore at a referee and took his team off the floor

Jared Sullinger wants back in the NBA; he knows his weight will play an important part