Happy 55th birthday, Magic Johnson
NBA legend Magic Johnson turns 55 on Thursday, nearly 23 years after announcing his retirement from basketball following testing positive for HIV.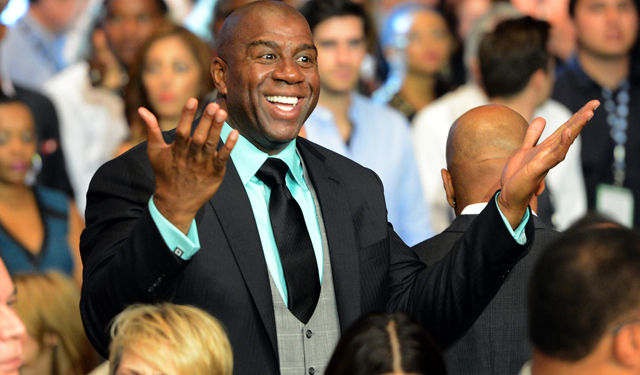 2014-15 NBA Schedules: Team-by-team | Day-by-day | National TV games  | Top 10 games 
Back in 2008, I found myself standing in line waiting to shake hands with Kevin Johnson. He was running for mayor of Sacramento and my dad, president of a law enforcement union at the time, was invited to a function in which the former NBA player was garnering support for his campaign. I was nervous and my hands were sweating. I wasn't worried about shaking hands with the mayoral candidate as much as I was nervous about shaking hands to the man next to him. 
My dad asked me for one of the business cards I had made for myself online. I pulled one out of my pocket and handed it to him. I asked him why he wanted it then. He said, "I'm going to give it to Magic and have him read your stuff." I tried to explain to my dad that my writing career, which was very much pro bono, unnoticed, and not even a year old, wasn't going to be of interest to Magic Johnson. This was someone who had books written about him, documentaries focused on him, and more success than almost every basketball player in the history of the world. He wasn't going to care about my rudimentary business card or writing attempts.
It didn't matter. My dad was my biggest supporter and was going to pass it along. I shook hands with the future mayor of Sacramento and he thanked me for my support. I stepped aside and had a giant hand envelope mine, shaking it with great fervor. "Thanks for coming, young fella," Magic Johnson said to me. I opened my mouth and nothing came out. I couldn't form words to speak back to him. Not even a basic "Hi, I'm a huge fan of yours," like so many thousands of people were able to say to him before that moment, was able to formulate. I just shook his hand, stayed silent, and moved aside.
I walked away and heard my dad introduce himself to Magic. I glanced back as he handed my card to Magic and told him about my writing. I cringed, filled with embarrassment, and walked away to where they were serving beverages. I avoided eye contact with everybody in the room and waited for my dad to join me. He told me that Magic was going to check out my website, and I replied that he was just being nice to my dad. It was an awkward moment in which I couldn't say anything to one of the greatest players to play the game I loved and my dad said too much.
A few minutes later, I was trying to find the restroom when I passed by Magic. He turned around in mid-conversation, leaned down toward me, and said, "Your dad told me about your writing; I'm going to check it out. Hope there is good stuff about me!" He flashed his famous smile and gave a little laugh. Once again, I couldn't muster any words, only just a smile with what he had said. I walked away dumbfounded by the events that had just happened. For Magic, it was just another moment in which he briefly touched the life of a fan of his play, and it was something that would stick with me forever. 
As we all know by now, Magic wasn't supposed to make it to his 55th birthday, which is today. In November of 1991, he informed the world he was going to retire from the game of basketball due to testing positive for HIV. It was a death sentence and with so much of the world so under educated about the disease, we all thought he was giving his own eulogy. 23 years later, Magic is in fairly good health and is one of the best ambassadors for the game of basketball we have. He has been for the past 36 years.
He's helped bring awareness and funding toward fighting a disease in a way that doesn't really seem possible. It hasn't ended HIV and AIDS by any means, but it's certainly given hope to the idea of one day curing it completely. It has made his contributions to the game of basketball pale in comparison. 
What you can say about Magic's playing career is it's timeless. Watch Magic Johnson highlights on YouTube or TV today and no matter how many times you see them, they give you the reaction like you're seeing such a play for the first time. You know the 45-foot bounce pass or the fake one way and flip the other or the no-look pass as he smiles at the defender he's just fooled are coming, and yet you're still pumping your fist, making that bitter expression with your face, or oohing and ahhing like it's new to you. 
That's what Magic Johnson meant and still means to basketball. His excellence transcends time. His place in history can't be rattled or supplanted because its rarity is an unbreakable currency with basketball fans. His greatness can't fully be appreciated or explained because we still try to figure out how he was so good at what he did. He was a 6'9" point guard, which is something you still don't see today. He was the greatest passer in history and a triple-double machine that makes the historical numbers seem like typos. 
For so many people who were fortunate enough to watch basketball during his playing days, you may not have been a Los Angeles Lakers fan, but you were likely a fan of watching Magic play. He was must-see television at a time in which it was rare to have that from the NBA. We didn't have the access we get now, and it helped grow the legend and folklore of such a historical player, much like it did with Michael Jordan, Larry Bird, and other historical greats.
One of the best ways to spend a YouTube session is to just search "Magic Johnson highlights" and watch the incredible videos that come up. In an era of short attention spans, a 15-minute video of Magic Johnson plays doesn't seem long enough.
I have no idea if Magic ever did what he told my dad he would do. The smart money is that he never did, but that's not important at all. He went out of his way to make sure a fan of basketball was entertained and happy that day. It's something he's done regularly for 30-plus years, whether it's intentional or not. I was lucky enough to live during a time in which he was a player and I got to experience a brief snippet of what he meant to the game. It's part of the reason I'm so in love with the game of basketball. A talent and personality like his gave so much and continues to do so. He's a big reason so many people who cover and/or cherish this game are in it for the long haul. 
I still have never said anything to Magic Johnson, but if given the chance, an older and more seasoned version of myself could probably at least muster up a "Magic, I've been a big fan of yours for a long time. It's great to meet you." It probably wouldn't mean as much to him as it would to me, just another fan of his presence in the history of basketball. No matter how old you get or how long you've been around the game, he'll always have an impact on your life as a fan of basketball.
Happy 55th birthday, Magic Johnson. And thank you for the memories you've given the fans.
Show Comments
Hide Comments
Houston advances, and San Antonio is set up to follow suit after its Game 5 win

This is fuel to the Westbrook haters' fire

How to watch the first-round series between L.A. and Utah
The playoffs are getting interesting

Harden didn't play great, no one could shoot, and the Rockets still rolled to a 4-1 series...

The Cavs and Warriors have both swept their first-round opponents