Hawks continue bombing from outside vs. Pacers
The Hawks aren't trying to beat the Pacers outside. They're just launching over them.
More postseason coverage: Playoff schedule, results | Court Vision Monday
The Atlanta Hawks aren't hiding what they're doing. Facing an Indiana team whose strength is interior defense has, in large part, abandoned any sort of interior offensive attack. After shooting 30 3-pointers in Game 1, the Hawks  shot 16 in the first half vs. the Pacers in Game 2, and lead by four at the break. 
Check out their shot distribution chart (this is where shots come from, not percentage of makes):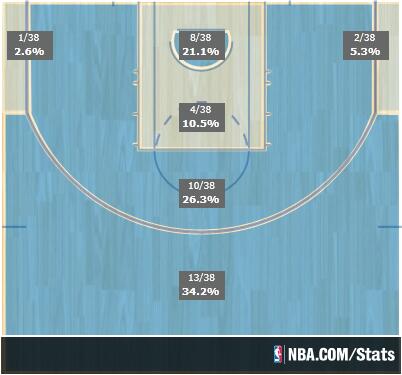 The Hawks took 42 percent of their shots from outside, 31.6 percent in the paint. That's nuts. They're just stretching the Pacers out constantly, and with the slow, lumbering lineups Pacers coach Vogel keeps deploying, it's working. 
The Pacers are in serious trouble. 
Show Comments
Hide Comments
Game 1 of the 2017 NBA Finals tips on June 1

LeBron reflects on emulating Michael Jordan growing up, but one thing he couldn't quite co...

Check back here for all of the conference finals results from the NBA playoffs
The Cavs clinched the series by winning Game 5 by 33 points in Boston

'I wear the number because of Mike'

Our experts predict every series in the 2017 NBA playoffs