Hawks hire Spurs asst. Mike Budenholzer as new coach
The Atlanta Hawks have hired Spurs assistant Mike Budenholzer as their head coach.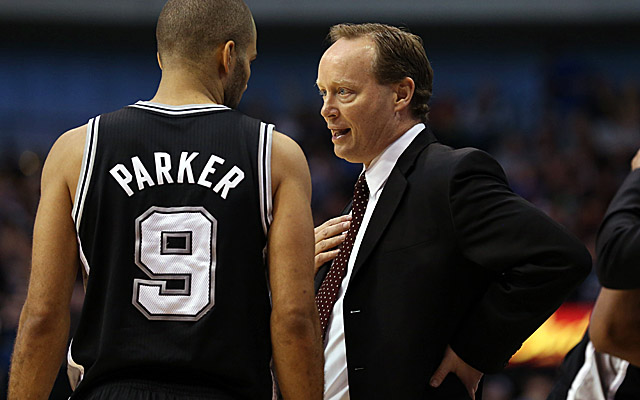 The Hawks on Tuesday hired Spurs assistant Mike Budenholzer to be their head coach, an attempt to infuse some San Antonio success into Atlanta's rebuilding project.
Budenhozler reunites with Hawks GM Danny Ferry, who was an executive in San Antonio before becoming GM of the Cleveland Cavaliers and then the Hawks. The Spurs granted permission to the Hawks to negotiate with Budenholzer during the break between their Western Conference finals victory and the start of the NBA Finals on June 6.
Given the relationship between Ferry and Budenholzer and their shared philosophies under Spurs head coach Gregg Popovich, the talks moved rapidly to a conclusion on Tuesday.
Ferry decided not to retain coach Larry Drew, who along with Rockets assistant Kelvin Sampson is a finalist for the Bucks head coaching job. Former Lakers assistant Steve Clifford also was a finalist, but Clifford agreed to terms with the Bobcats for their head coaching vacancy on Monday.
The Bucks are huddling this week to decide whether to expand their search to include Grizzlies head coach Lionel Hollins, who does not have a contract for next season. The Grizzlies' season ended on Monday night with a sweep at the hands of the Spurs, who advanced to their fifth NBA Finals since drafting Tim Duncan in 1997.
Ferry made a point of expanding his search beyond Budenholzer while the Spurs' top assistant was unavailable as San Antonio was advancing through the playoffs. But in the final analysis, Ferry was most comfortable with Budenholzer as he attempts to incorporate the San Antonio way into his rebuilding project in Atlanta.
The Hawks spoke with Drew, Stan Van Gundy, former Trail Blazers coach Nate McMillan and CSKA Moscow coach Ettore Messina during their search.
Griffin and the Clippers are at a crossroads

"He left because he wanted to be with James Harden," the Los Angeles coach said

The Warriors have shown that simply putting talent together isn't enough
Hayward will be in Miami this weekend, while Utah and Boston also have meetings scheduled

Sacramento signs Serbian to 3-year, $36 million contract while passing on Ben McLemore

Free agency is around the corner, which means there could be a ton of significant moves coming...