Heat are avoiding looking ahead to the Spurs
The Spurs already have punched their ticket to the Finals. And while the Heat hope to join them, they're not looking past the Pacers.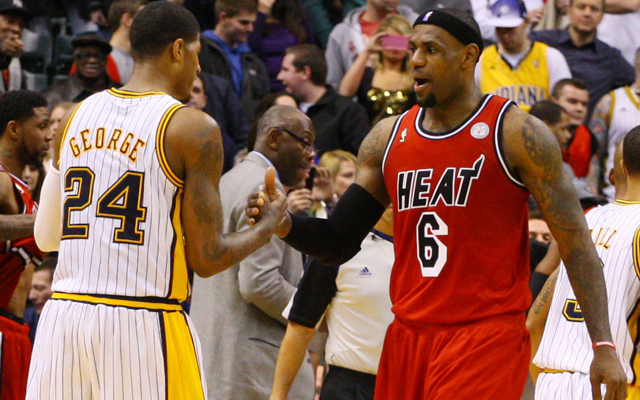 INDIANAPOLIS -- Two teams had their shootarounds on Tuesday at Bankers Life Fieldhouse, but only one got questions about the newly crowned Western Conference champion San Antonio Spurs.
Can you guess which team?
Despite getting peppered with questions about the Spurs and how impressive their longevity is and what kind of advantage eight days off could be and if their sweep adds any urgency to their situation, the Heat remainded on task and on message -- they just need to win Game 4 against the Pacers on Tuesday night.
"It has nothing to do with us. We're in our own competition. We have our hands full," Heat coach Erik Spoelstra said. "If we're thinking about San Antonio, our minds are absolutely on the wrong thing. Indiana's giving us everything we have to handle. They're a worthy opponent that has proven they can beat us if we're not at our best.
"This series is up for grabs. It's highly competitive. Because you win by a certain amount doesn't mean anything. We're focused to try and come in here and get another one. We know it's going to be a very desperate effort on their part."
So ... the Spurs have some serious time off, though. Does that add any motivation to trying to wrap up the Pacers quickly?
"I don't know," Spoelstra said. "I'm not even thinking about that. Who cares?"
Who cares, indeed. Because whether it's five games, six or seven, the Heat's goal is to simply advance. Their message is to remain in the moment, maintain concentration, focus on the task at hand and worry about the next thing when the next thing comes. 
"This is about Game 4," Shane Battier said. "It's all that matters. We want to win because we're playing. That's been our mindset the entire year. We'll get dressed, get referees, the whole shebang, popcorn's popping and go out and try and win one.
"We just want to play well. We'll take a win any way, and that's all that matters."
Said Chris Bosh: "You have to go through the process. I always try to just concentrate on what we're supposed to do, which is Game 3. I mean, Game 4. Excuse me. It's not going to go any faster or going to slow up. We just have to take care of our business and really stay in this mode of concentration. So we can make sure nothing passes us by as we continue to play this series."
Still, it has to be human nature to see the Spurs in the Finals now and know if you take care of your business, then that's the only remaining team in your way for a title. Right?
"It's human nature. But getting to where we've been, we know not to pay attention to that," Bosh said. "We have the discipline to take care of business here. If you look past that moment, you will get beat. We still have a very tough team to play."
The Pacers didn't get a single Spurs-related question in their availability, which isn't surprising. They're down 2-1. And even if they were up 2-1, everyone knows they have their hands full with Miami. When it comes to the Heat, though, expectations and such are different. 
Game 4 is going to swing all that perspective one way or it'll balance it out some. If the Heat win, it's a 3-1 hole for the Pacers and they'll have to beat the Heat three straight times, with two of those coming in Miami. For reference, the Heat haven't lost three straight since last season. They haven't lost two straight since January. So, yeah. Game 4 is important for the Pacers.
And equally so for the Heat because, as Spoelstra said, the series really is up for grabs, especially if Indiana gets back in it on Tuesday. It's hard for the Heat not to have one eye on the Spurs, but they claim to have all eyes on the Pacers. For example, asked how much of the Spurs series he watched, Battier summed it up well.
"Less than you, I bet."
Griffin and the Clippers are at a crossroads

"He left because he wanted to be with James Harden," the Los Angeles coach said

The Warriors have shown that simply putting talent together isn't enough
Hayward will be in Miami this weekend, while Utah and Boston also have meetings scheduled

Sacramento signs Serbian to 3-year, $36 million contract while passing on Ben McLemore

Free agency is around the corner, which means there could be a ton of significant moves coming...