Heat-Bobcats Game 4 Preview: Brooms?
Previewing Game 4 of the Heat-Bobcats first-round series, where the Heat look to punch the first ticket to the second round.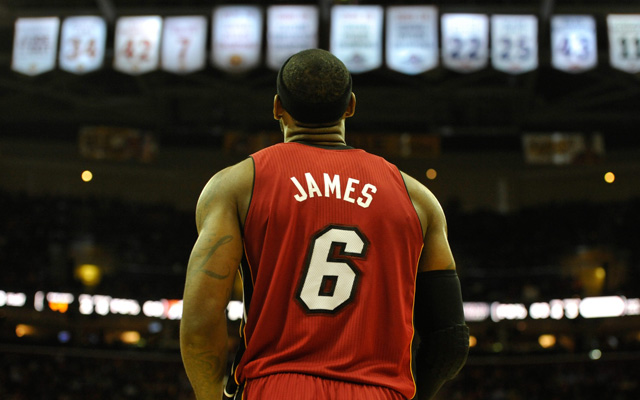 More postseason coverage: Playoff schedule, results | Latest news, notes
Previewing Game 4 of the Heat-Bobcats first-round series.
1. Where We Are: The Heat took a commanding 3-0 lead with a methodical takedown in Game 3, doing it behind eletric transition basketball while exposing the fact the Bobcats have been neutralized on the offensive end with an injured Al Jefferson.
Quietly, Michael Kidd-Gilchrist has defended LeBron James kind of well, but the Heat have had too many weapons. Dwyane Wade is showing positive signs of health, Chris Bosh is always steady and Miami's role players are doing that thing they tend to do in the postseason -- play well. The Bobcats better start picking out their fishing gear, because they're going to be on the lake here shortly.
2. The Big Number: Zero. The number of teams in NBA history that have come from behind to win a series down 3-0. And I can promise you this: The Charlotte Bobcats are not going to be the first.
3. Key Adjustment: There's really no adjustment available to the Bobcats at this point. They're not as talented, they don't have LeBron or Wade, and their best player is likely going to miss the game. If there's anything to try, it's run everything through Kemba Walker, seeing if he can get hot and erupt for a big isolation/pick-and-roll night. Otherwise, they just have to try and keep it within 20.
4. The Big Story: Can the Bobcats extend the series? We all know this thing is over, because LeBron and the Heat aren't losing four straight to the Bobcats, especially if Al Jefferson is sidelined. But maybe behind the energy and emotion of a home crowd, playing out of desperation, the Bobcats can steal Game 4 and send things back to Miami for a funeral. 
5. The Facts: 7:00 p.m. ET. Al Jefferson is doubtful with a plantar fascia tear in his foot.
Griffin and the Clippers are at a crossroads

"He left because he wanted to be with James Harden," the Los Angeles coach said

The Warriors have shown that simply putting talent together isn't enough
Hayward will be in Miami this weekend, while Utah and Boston also have meetings scheduled

Sacramento signs Serbian to 3-year, $36 million contract while passing on Ben McLemore

Free agency is around the corner, which means there could be a ton of significant moves coming...