Heat-Pacers Game 1: LeBron and Bosh remain out of sync
The Heat's superstar trio got a huge game from Dwyane Wade, and it wasn't nearly enough thanks to passive play from LeBron James and Chris Bosh.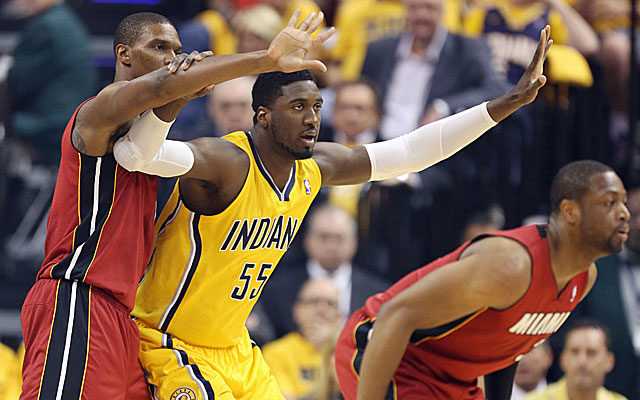 More Game 1: Doyel: Indy built to beat Heat | Pacers 107, Heat 96 | Stephenson rolls
The Miami Heat were out of sorts on Sunday in Game 1. Against a Pacers team that was supposed to be completely lost headed into the Eastern Conference Finals, the two-time champs were out of sync, out of character, out of mind, out of body, out of it. Pacers 107, Heat 96, Pacers lead the ECF 1-0.
And it started where everything begins with Miami: LeBron James and Chris Bosh. 
James finished with 25 points, 10 rebounds, five assists, and shot 11 of 18 from the floor, great numbers for most humans. But James isn't judged against most humans. He had four turnovers and they were key, but worse, he didn't assert himself. The 25 points came in the flow of a wilting Heat offense. No one else besides Dwyane Wade was accomplishing anything. James needed to be more aggressive. That's not just within the framework of a loss. Even if they had won, James woud have needed to be more aggressive. 
As proof, James had just four points in the fourth quarter, all of them coming on his four-point play. 
Even then, the Heat scored 96 points. That should have been enough to get the job done. But Miami's defense was atrocious ... and unbelievably, James was a big part of the struggle. Watch on this first quarter possession as miscommunication leads to James getting caught in no-man's land, trying to determine whether to commit on the rotation. 
Then later, watch what happens on this Paul George cut. This isn't mental awareness or X's and O's. This is just LeBron James, arguably the best two-way player on the planet, getting beat by Paul George.
That just can't happen. James seemed oddly disconnected today. Not in the same way he checked out when things got tough in 2011, but more in the way that the Spurs managed to make him overthink things. He was trying to figure out what the Pacers were doing, and that caused issues.
But James was still way better than Chris Bosh. Bosh was a nightmare in Game 1. Nine points on 4-of-12 shooting, 0 for 5 from 3 in Mike Miller's former role, and a minus-16 that looked every bit accurate. Bosh also got killed inside by David West, causing him to overreact like on this late-game dagger dunk by West. Basically, here's Bosh's afternoon:
This all adds up to a Game 1 loss that isn't the end of the world for Miami. The Heat are 16-2 after losing Game 1 in the Triad era. But they did waste a 27-point, 12-of-18 performance from Wade. Wade gave them a tremendous game on the offensive end, something that's not always going to be there with his age and injury issues, and they couldn't capitalize. Beyond losing Game 1 on the road, that's the big takeaway here. In a rare turnaround, Wade was there for his superstar teammates, making plays and scoring points. 
The other two superstars who have carried the team so often? One was a ghost and the other never got connected in Game 1. 
Spoelstra: "That's probably at our worst defensively."

— Ethan J. Skolnick (@EthanJSkolnick) May 18, 2014
Show Comments
Hide Comments
The series returns to Los Angeles for a pivotal Game 5

The series heads back to San Antonio tied at 2-2

No final decision has been made, but Rondo could suit up
The service must have been outstanding

The Rockets look to close out the series at home

A few Rockets decided to wear all black to the game